Travelpak Traveller
Item Details
|
Reviews
(
1
)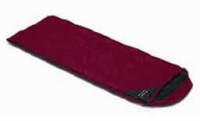 Manufacturer:
Snugpak



This item may be available at:
Description
The inner filling of the Travelpak sleepings bags. This insulation is tailored to Snugpak's exact brief, this ultra lightweight, high loft insulation is the new fill for the Travelpak range of clothing.Thermally insulated fine fibres are used which have excellent compressibility. By design, these, travel-orientated fibres provide an even lesser bulk of fill than that of other Snugpak bags, yet are still able to perform highly efficiently. The weight of the fibres makes it the perfect fill for adventure travel-orientated sleeping bags. Includes a roll away mosquito net. The double sleeping bag comprises a pair of single sleeping bags with compatible zips so that they can be zipped together as shown.

1 Review
So tiny!
Review by: Climbin4Vs, 2007-05-07
I'm the kind of person that hates trying to find a new sleeping bag. They are usually too big, even when compressed, over priced and a pain in the butt to place back in the compression bag. Finally after weeks of searching for something small, cheap and lightweight, I found an unfamiliar UK brand, Snugpak. The only thing I can say about this company is, wow.

I decided to give the brand a test run and bought their Travelpak Traveller. The company gives the following specifications:
-Temp: 62.6°F - 44°F, Low 35°F
-Weight: 1.65 lbs
-Length: 86.6 in., Chest: 59 in.
-Pack Size: 4.7 in x 5.5 in

During my testing of the bag I found the company's temperature recommendation to be true. I was also comfortable using the bag in 23 °F, with the addition of a liner. Depending on the liner, and what you wear to sleep, you probably can use this bag in even colder weather. The hood fits great and keeps the heat in. I did find that if the hood isn't being used then cold air does get into the bag, this is easily fixed by making sure the top is closed tight around the shoulders. In addition, I love that this bag is rectangular. I like to have extra leg room while sleeping and mummy bags are way too constricting. The best part about this bag is getting it back into the compression sack. There's no trick to folding or placing it back in. I found that whether you fold it up or just stuff it in the sack it goes in without any problems. One problem I did encounter was the mosquito netting would come untied if not double knotted.

I definitely rate this bag as a five. The only problem with this brand is finding it in the US. There are some online retailers, however watch out for over priced items. Ebay is a good place as well. The best option is to buy from www.outdoorgb.com Even with shipping their prices are the best around.