Next

Blue Kazoo
Item Details
|
Reviews
(
4
)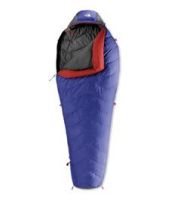 Description
External Length: Reg: 84" (213 cm), Long: 90" (228 cm) Fill Weight: Reg: 1 lb 7 oz (650 g), Long: 1 lb 8 oz (685 g) Hip Circumference: Reg: 58" (147 cm), Long: 60" (152 cm) Hip Circumference: Reg: 62" (157 cm), Long: 62" (157 cm) Max User Height: Reg: 6'0" (183 cm), Long: 6'6" (198 cm) Shell Fabric: Pertex® Resist ripstop, BottomLine taffeta Shoulder Circumference: Reg: 62" (157 cm), Long: 64" (163 cm) Sizes (Reg or Long) & Zipper Location (Right or Left): RR, RL, LR, LL Stuffsack Size: 8" x 17" (20 cm x 43 cm) Temperature Rating: 20F/-7C Weight (Average Total): Reg: 3 lbs (1355 g), Long: 3 lbs 2 oz (1425 g)
4 Reviews
Review
Review by: cgailey, 2005-05-12
After about 8 years of use, the bag still works great for spring thru fall, but has lost a lot of loft. Can't expect too much from 600 fill...overall a great bag.
Review
Review by: rockmaninoff, 2004-05-14
I bought this bag about four years ago. Lightweight and compressible, without a lot of bells and whistles.
Review
Review by: montafoner, 2004-04-05
Ahh..the Blue Kazoo. Since I bought this bag about five years ago, I can't speak for the latest design changes. But I must say that this bag is great. Since it's down filled, I can compress it to half the size of similarly rated synthetic bags. When kept dry, it's oh so comfy. If you're a stomach sleeper, be warned, it's more snug than most bags but that's the price you pay for compressibility and weight.
Review
Review by: sarcat, 2003-04-04
I've had mine for at least 4 years. I use it in the summer for high mountains and add a bivy and fleece liner it'll work in any Utah winter night. I'm 6'1" and got the long version which means my feet never hit the bottom.