Previous
Womens Womens Rosa 20 Degree Sleeping Bag
Item Details
|
Reviews
(
1
)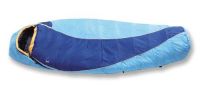 Description
Continuous-filament synthetic insulation provides reliable warmth for the life of a sleeping bag, even in damp conditions. We build the Rosa with Climashield HL, and wrap the whole package in 70-denier nylon for a durable bag destined for seasons of use. Rated to 20 degrees, the Rosa not only provides warmth, but serious comfort, too - an ergonomically shaped foot box wont cramp your feet and Pad Locks mean you wont roll off onto the hard ground during the night. Check out the images to the right to see the Lavender Blue color options. A full-length draft tube insulates along the zipper, retaining heat and helping you stay warm through the night.
1 Review
SD rosa
Review by: watchmego, 2008-11-18
I bought this bag in the spring 2005. the first time i used it the temp was damp near 30F and even with layers and liner i was just cold. since then the loft has certainly lost its suppleness and therefore comfort rating has gone down. I have used it a lot in the last few years in varying weather from hot 80s and dry to wet upper 20s and was comfortable until about 45-50F, which is far warmer than I expected. all in all i have been far less than satisfied with SD rosa.