OmniFuel Stove
Item Details
|
Reviews
(
2
)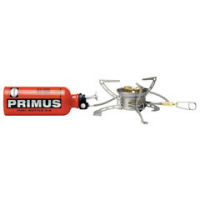 Description
Primus most advanced multi-fuel stove has now become even more flexible. OmniFuel uses very advanced materials to offer advanced functionality and is designed to handle demanding conditions, extreme altitudes and both high and low temperatures. OmniFuel is a sturdy stove that works with LP gas, gasoline/petrol, diesel and kerosene - even aviation fuel. Using the separate control knob, the flame can be adjusted to provide the exact heat required. The ErgoPump, the multi-tool with an integrated cleaning needle, nylon stuff sack and the windscreen and heat reflector are included.
2 Reviews
I love this stove
Review by: wcfauna, 2008-07-08
I have used this stove occasionally in three or four trips and recently decided to buy one for myself. This is a very good stove! It burns every liquid that burns and can also handle screw-on gas canisters (Primus, Coleman etc.) When I first tried it in 2005 in Morocco, it was somewhat difficult to operate and needed frequent cleaning, mainly because of crappy fuel and inexperience. At that time I thought nothing special of this stove. After using it in the Alps in 2005 and 2007 and in Caucasus range in 2006, my views changed and I fell in love with this stove. It is very easy to operate if you care to read the manual or watch the instructional manuals. It boils fast, uses few fuel and is very stable even when using large pots. Remote canister allows placing two stoves side by side for super-fast cooking without the danger of overheating. It has an aluminum foil reflector for wind shielding and heat reflection altough I prefer my own home-made fiberglass canvas shield.

As I haven't used MSR stoves I can't really tell if this stove stands out from the rest but I highly recommend it to anyone interested in gas/liquid fuel stove that is powerful, sturdy and efficient. Can't go wrong with this one.
Review
Review by: lextalion, 2006-07-21
Ok here is my field test.

After spending 6 days in the back country of Yosemite using this stove. All I can say is wow, what a awesome stove.

I likemost is the options of fuel that are available to use the most. as for how is cooks that is yet to be determind.

However if water boiling is the most important item, then I am sure just by looking at the stove, that this is the blast furnace for you. They advertise boiling to happen in just 3 minutes, which it did in a really quick hurry. It was hard not to love the ease of use.

When compare to my MSR Whisperlight international, weight is nomial. and compaction is very simular in size. In comparison to any of the canister stoves. It is heavier, however boils water quicker and I feel is a lot more stable for a variety of cookware.

I know that this comparison is a bit weak as the whisperlight doesn't work on canister fuel and only on liquid fuel. But the whisperlight is a tried and true monicker from which I do believe standards can be set from.

I ran out of canister fuel on the trip and had to switch to liquid fuel, to which I was greatly suprised as to how fast it heated and went to even burn stage. It also re-lit easy enough if one decided they needed to heat something more.

My only curiousity now is to fuel efficiency in comparison to other stoves in either canister & liquid fuel.

As for me, this has been a good purchase & one that'll see a lot of use.