WindPro Stove
Item Details
|
Reviews
(
4
)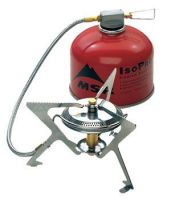 Description
If wind is your worry, but you prefer canisters over liquid fuel, then this is the stove for you. The WindPro worked better in wind tests than all the competitors, and it is the only remote canister stove sold complete with a windscreen and heat reflector. Lightest remote canister stove on the market Minimum weight is less than 7 oz.! Compact Small enough to fit in a one-liter pot. Great for gourmet cooking Supports large cook pots and can be used with bake ovens. Minimum Weight: 6.8oz (193g) Packaged Weight: 10.5oz (298g)
4 Reviews
windpro
Review by: doc24788, 2007-08-30
I got my out a last season and now on all the trips i do all the cooking every one love my stove. you can with a little work you can cook anything.Great on fuel too
Review
Review by: rhythm164, 2006-06-07
I love this thing, it kicks some serious heat, especially when coupled w/ the included windscreen and heat reflector. Plus it's light and compact, and I have yet to need to perform any maintanence on it. Amy's Organic Minestrone, beware.....
Review
Review by: laxclmr, 2005-09-28
I really like this stove. I've gotten many backpacking trips out of it. I like how sturdy it is when boiling large amounts of water. It also has the ability to simmer really well. Light and durable.
Review
Review by: shock, 2005-08-03
This is a very nice, compact stove. Its perfect for backpacking or any trip where you need to travel light. I brought it on a weekend trip with about 12 other people. the only two stoves faster at boiling water than it were an MSR Dragonfly and an MSR whisperlite. Perfect if you dont plan on cooking at the top of a mountain in the middle of the Andes.