PocketRocket Stove
Item Details
|
Reviews
(
15
)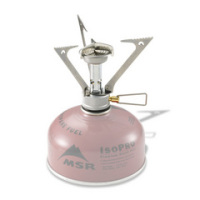 Description
When it comes to canister-mounted stoves, MSR proves less is more. The PocketRocket is a favorite of BACKPACKER Magazine Tester Andy Dappen, who said, "This midget flamethrower is one of the lightest backpacking stoves available, and the best cartridge stove I've used."
Ultralight, Pocket-Sized
Weights just 3 oz. (86 g). Palm-size dimensions, 4x4x2 inches.
Simple, Lightening-Fast Operation
No need for priming, pressurizing or maintenance.
Blazing Heat Output
Boils a liter of water in under 3.5 minutes.
Simmer or Boil
Glove-friendly controls allow precise flame adjustment and stability.
Windclip™ Windshield
Micro-burner, tri-sectional clip protects flame in light wind gusts.
Burns MSR IsoPro™ Premium Fuel
Clean burning, ultimate performance from start to finish of canister life.
15 Reviews

Write your own Review


Read all 15 reviews
Pocket Rocket
Review by: ladybug1542, 2007-03-05
Great for boiling water, not so great for cooking. The flame is so very focused that it will burn whatever is in your pot if you take it anywhere above the lowest setting and don't stir. Great lightweight 3-season stove. Doesn't do as well in the winter as summer because it is not heat/fuel efficient like the white gas stoves. But, if all you're doing is boiling water to add to dehydrated foods, this is a prefect option.
Review
Review by: scubasnyder, 2006-02-26
awsome stove, but better if you equip it with the self ignighter, only problem is its hard to use if there is no flat surface, but recently on my trip to the everglades this was an awsome stove especialy for quick set up.
Review
Review by: thetroutscout, 2006-02-06
The only thing keeping this from a 5 is stability. One must be careful while stirring not to tip it over. I've never knocked over a stove until this guy. Other than that, its light, small, fuel is readily avalible. It's easy to keep a good simmer and has won me many boiling contests. It's impressivly loud and everyone in camp will know when you fire up your rocket.
Review
Review by: sixleggedinsect, 2006-01-04
A nice stove for backpacking in friendly conditions, but too specialized for general use, i find. it sure is light, and the simmer ablility is nice for us whisperlite dorks, but i have more cons and pros. it is pretty flimsy and unstable, particularly when set on dirt, and requires a truly flat surface where you can get away with something featured or slightly tilted with a legged stove. it is expensive. using those weeny little canisters saves weight if all you need is one tiny bit of gas, but id be surprised if it saved weight if you needed more than a week or two of gas, and white gas is so unbelievably cheap compared to canister gas. last, it is fine for wind-protected warm weather cooking, but as soon as the temps drop frigid, or a breeze kicks up, your cooking time skyrockets and you start dreaming of a burlier stove. there are some modifications some folks will do to help with this, and you coudl always cook in your tent if you know what you're doing, but out of the box this is no expedition stove.
Review
Review by: climbingaggie03, 2005-09-25
I got this stove as a gift, and I have mixed feelings about it. It is light, and convienient, but I think that the flame is too focused, I have to fight to keep from burning the center of whatever I'm cooking. It did do well when I was at altitude though, I boiled water at the boulderfield camp ground on longs peak (which i think is around 13,000 ft) and it did well. I'd say it's good for summer trips especially into the mountains or whenever weight and convience are top priorities, other wise I'd go with a whisperlight for melting snow, or a tuna can stove for ultra light backpacking