Previous
SuperFly Stove
Item Details
|
Reviews
(
2
)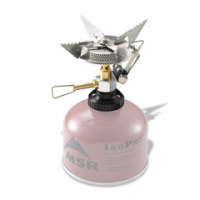 Description
Sometimes while taking on additional provisions you dont have the time or resources to pick and match specific fuel canisters to specific stove brands. Thats why MSR designed their SuperFly Stove with a Multi-Mount that adapts to a range of self-sealing fuel canister shapes and sizes. Another nice feature is the matchless lighting on the AutoStart ignition--just in case you left your matches back at the trailhead. The SuperFly has a generous flame with a large burner that heats pots and pans faster than any other MSR fuel canister stove--without burning up precious fuel too quickly. The glove-friendly flame control valve helps fine-tune your cooking between simmer and boil with less hassles than full on/full off backpacking stoves. One eight-ounce MSR IsoPro fuel canister will burn for a 60-minute average.
2 Reviews
Review
Review by: johngenx, 2005-09-28
Used my Superfly on many backpacking and mountaineering trips and it's deadly reliable, surprisingly wind resistant for a cannister stove and lights in an instant with the peizo self-igniter. I have the Pocket Rocket as well, and the Superfly is a bit heavier, but has a larger flame, blows out less, and is a bit quieter. Like all can stoves, it's not great below freezing.
Review
Review by: flypn, 2004-04-19
excellent choice. easy to use and smaller/lighter than bottle stoves to pack. get the international canaster adapter to take it overseas.