Trillium Stove Base
Item Details
|
Reviews
(
3
)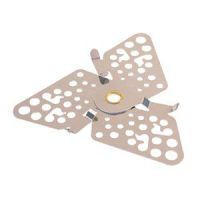 Description
Use the MSR Trillium Stove Base and stabilize your MSR liquid-fuel stove on snow, gravel, and talus. Light and compact, the Trillium Stove Base fits into a two liter pot for easy and safe packing. MSRs Trillium Base wont corrode and is strong enough to hold a full, four liter pot.
3 Reviews
Review
Review by: lizardchick, 2005-03-19
I absolutely love this base! The weight meant nothing after one night at Red Rocks where it kept my poor Simmerlight from blowing away. I consider it to be a very worthy replacement of the simple foil disc that comes with any MSR stove.
Review
Review by: roc-dude, 2004-05-07
I have used this with my MRS whisperlight stove for several years. I sometime have a hard time get the stove level and keeping it stable. The Trillium base helps with this problem. It not to heavy and most of the time I am glade I brought it along.
Review
Review by: scubasnyder, 2004-02-23
This works great with my dragonfly stove, it clips right into the base. used it recently while climbing when there was snow on the ground, keeps the stove very stable. not a necessary product but it is pretty nice for keeping your stove level.