Firstlight
Item Details
|
Reviews
(
2
)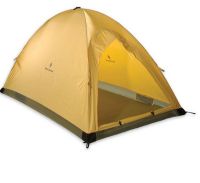 Description
The Firstlight is a lighter, more breathable version of the famed Bibler I-Tent. Made with Epic fabric* and SilNylon and weighing a scant two pounds nine ounces, the Firstlight is equally at home on hot desert or cool summer alpine trips. An innovative door design peels open to the floor, allowing easy access. Door netting and a small back window provide cross-ventilation. Perfectly suited for alpinists looking for an ultralightweight and packable tent.
*EPIC by Nextec fabrics are highly water resistant. This means they resist penetration by water under all but the most extreme conditions.
Color: Maize
Weight (tent & poles): 1.16 kg (2 lb 11 oz)
2 Reviews
Incredibly light tent - perfect for alpinists
Review by: Crimsonghost, 2007-06-03
I bought one of these a while ago, and have used it a few times in different conditions. Firstly, although the fabric is not waterproof, I have been inside it in pouring rain and not got wet. In cold conditions you still get condensation although nowhere near as much as most single skin tents. The tent has decent, simple venting (door and rear of tent) which will mean condensation can be kept to an absolute minimum in all but the worst conditions. The fabric is very lightweight, so you need to be careful (I put a pole through it one time when putting the tent up) - it helps if there's one person at each end to guide the poles into the slot. Strength wise, it has stood up to high winds with no problems, however I think it would benefit from having a guy-point in the center of the side wall, as the fabric can flap a bit in high winds. I would recommend it to any climbers travelling as a pair in dry or cold conditions although it is slightly shorter than I would like (I'm 6' 1". I've used it by myself in place of a bivi bag, as it doesn't weigh much more, and is a lot more "liveable" - you can hang a stove (jetboil, etc) from the point where the poles cross inside - just be careful not to burn it!
Perfect for its niche
Review by: big_red, 2007-01-12
First of all this thing is LIGHT. It packs into a compression sack a little bigger than a softball and really helps keep the pack size down. It's really easy to pitch but the fabric is so thin that I can't help but feel like the end of the pole would tear right through it if I missed one of the reinforced corners for the poles. Also, definitely get a footprint of some kind because the floor is VERY thin as well and it feels like pitching this tent on anything other than grass or snow you would wear through it in no time. The seams are not taped (including the floor corners) so I have to assume they would leak but seam sealer is included.

Inside the tent breathes better than any of my other tents and doesn't heat up too bad in the sun. I've never been through adverse weather in it and I hope I never have to do so haha.

To sum it up...this tent does what it is made to do perfectly. Don't push it's limits far though, because I don't think it would hold up (but I may be wrong and I will update if proven so)