Hubba HP Tent 1-Person 3-Season
Item Details
|
Reviews
(
3
)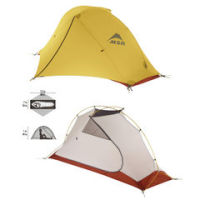 Description
Ultralight fabric in the MSR Hubba HP 1-Person 3-Season Tent shaves this single shelter down to 2lb 9oz. This fabric is also super durable and weather-resistant, which means you wont have to buy a new tent after a few seasons of hard use. The poles use an integrated hub-and-ferrule design that widens the Hubba HP Tent, so you can sit up comfortably. The fly extends over this MSR tents entrance so rain wont drip in, and a large vestibule stores your pack. Set up the Hubba HP with the fly and body for wet, cold weather, and use the fly with a footprint footprint sold separately for warm, ultralight travels.
3 Reviews
Great tent, sucks in the wind
Review by: roundabout, 2006-11-28
This is a pretty good tent, but then again I have gone from using a tent that broke poles if you looked at it sideways. It has never let water in, and I spent a week camping in a Cape Breton downpour. Itís roomy with plenty of head space, but I think it has a few design faults, which are apparent in wind. Even light wind is annoying, but strong wind was enough to send me looking for another tent.

Firstly the fly flaps badly. yeh I know all tents make a heap of noise in windy conditions, but with this tent there is no way to get the fly taught, particularly at ground level between the corner of the tent and where you open the fly to access the tent. Itís like there is too much material. The fly on this makes more noise than a plastic bag in a washing machine tied to a jumbo.

The other thing wrong with it is the top cross-over pole (tent has 3 poles, two arch over from opposite corners and one short pole that sits supposedly horizontally on top). After a week of camping (setting up and taking down each day) the top pole is getting pretty bent out of shape. It did take about 4 hours of very high winds without breaking though, but it was bent before that (winds strong enough to bend both sides of the cross over pole in to touch either side of the tent).

My recommendation is that if you think you may ever camp anywhere it might get windy, or even if you eat beans, then donít buy this tent. But if you can fall asleep next to the airport after a session of blazing saddles, this is probably the tent to keep you dry.

Review
Review by: climbingaggie03, 2005-10-24
I bought this tent cause it is freestanding and light and so far I haven't been disappointed. I used it on Longs peak this summer at the boulderfield, the wind was blowing around 30mph and once it was staked down and guyed out, the tent (fast pitched) did great, I thought the pole might bend/break, but it didn't. If you are going to use a solo tent this is one of the best especially for buggy trips during summer.
Review
Review by: enjoimx, 2004-10-01
There are two things I like about this tent more than other tents in its class. Its freestanding, and its got plenty of headroom. Its really fast and easy to set up. The hub design on the poles allows the poles to be broken down really small. The rainfly is really lightweight and the vesituble size just right to fit my backpack and shoes. Also, the mesh body creates nice ventilation/low condensation. And hey, its only 3 lbs!