Sportz Truck Tent III
Item Details
|
Reviews
(
1
)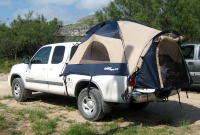 Manufacturer:
Napier



This item may be available at:
Description
"Set up camp wherever the feeling strikes you. The Sportz Truck Tent III turns your truck into a comfortable camper faster than you can roast a marshmallow. This is the easiest way to stay above the cold, damp ground and outfox those night prowling critters. Frustrating searches for a clean, dry and level camp site are now a thing of the past. With the truck tent—just park, pitch and voilà—you're living it up in a cozy home away from home. Camping out doesn't get more convenient than this. The rain fly's built-in awning provides cool shade and a grand entrance to your luxury lodge. What's more, the Truck Tent III boasts a level of protection not found in ground tents. Since campground kleptomaniacs would rather wrestle bears than steal occupied vehicles, rest easy that your truck is safe while you sleep. With this much comfort, it's easy to see why the Napier Sportz Truck Tent III is the #1 selling truck tent in the world. Blue/tan color scheme. 1-year warranty."
1 Review
Great tent • not so good support poles
Review by: slopjop, 2007-08-30
I really really love this thing.
there are a few drawbacks that keep this thing from getting a 5-star rating.

Pros:
* Off the ground camping
* Really roomy (5'6" height inside and can sleep 2 VERY comfortably)
* Fairly easy access in and out
* Packages up very small for transportation
* Solid truck straps to keep it mounted in severe wind conditions

Cons:
* God awful tent poles (2 snapped after second use, others are bent)
* No ceiling windows except for 2 very small triangular pieces (come on guys, how hard would that have been?)
* no window to access truck rear-slide window (there's only a sock thing so you can run cables)

anyway, the thing has a warranty. i called about pole replacement and they shipped a whole new set the next day. i have never heard of tent poles snapping so easily. for some reason i thought they would be indestructible.

it was a pretty big letdown realizing that there was no ceiling opening to provide better circulation. 80° summer nights kinda blow.

all in all though, i've enjoyed having the tent and will continue to use it. i just need to test it out on a rainy night now to see how it really does. cheers!