Timberline
Item Details
|
Reviews
(
4
)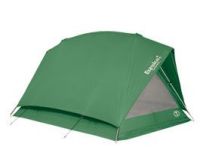 Manufacturer:
Eureka!



This item may be available at:
Description
Celebrating 30 years and still going strong! Our legendary Timberline series continues to build an enduring reputation by running the camping gamut - from meeting the needs of generations of scouts to taming the toughest weather conditions with ease. With millions of Timberline tents sold, you know they're definitely backed by popular demand.
* Free-standing, A-frame design makes set up a snap
* Shock-corded eaves increase stability and wind resistance
* 75D StormShieldŽ polyester cloth fly for improved durability and resistance to UV, acid rain and tearing
* Major seams factory taped and sealed
* Twin-track, side opening door
* Durable, lightweight, 1/2" aluminum 5-pole frame
* Hooded fly front and rear allows windows to remain partially open during rain for ventilation
* Optional Vestibule and Annex add extra storage space for packs and boots, provide shade and rain protection
4 Reviews
An oldie but goodie...
Review by: rgbscan, 2007-10-20
Like the other reviewers, I also spent my entire scouting career as a kid in one of these tents. I've personally owned two (a brown one and a green one - both the 4 person model), and took one of them for a 12 day Philmont expedition. I'm not sure why others are saying you'll get "an inch of water in the tent". Never had a problem with water getting in. I will agree that condensation con be a problem if you keep the thing completely zipped up. I found that adding the vestibule with the "chimney" vent in front along with keeping the front door completely zipped open (so only the mesh is closed) works wonders. You still don't get any water in because you're only opening the door to the vestbule.

this tent is a solid performer. I no longer need something this large (or heavy) but I spent many a night in here with 3 other people playing cards, reading books, and riding out storms.
Review
Review by: toaster_rancher, 2004-12-23
Honestly, I loathe this tent. I used it for a 27 day wilderness canoe trip this summer and it was about as close as absolutley worthless and i've come in a tent. Anyhow, my gripes are this, firstly the tent does not ventilate well at all. You will find a ton of condensation in it in the mornings, keep your down at least a few inches away from the tent's side or you're screwed. Learned that the hard way. Also the tent is not good in rain. The fly doesn't fully cover it, which for this tent it should,in driving rain its going to soak through. If it rains you are going to get wet! I actually used an SL Bivy by MH in this thing. The only benfits I can see with this tent is the massive headroom that it offers, when its not raining it can be nice. This is not a tent for anything but car camping, in fact i'd rather sleep in the car.
Review
Review by: nmoroder, 2004-08-16
Sometimes a classic should be retired... I slept in these for 8 years as a scout.

Pros: Setup is easy. Headroom is great. Very roomy. Easy to get in and out of. Fairly light.

Cons: Rain protection is minimal, at best. These tents are okay if you don't mind waking up in an inch of water after a thunderstorm. Seams leak.
The zippers really suck. I've seen at least 15 of these break.
Review
Review by: cheezhead, 2004-06-14
Great all around backpacking tent. My Dad purchsed one back in the 70's and we still use it today. Its not the best choice for technical camping in the mountains or winter. But if there is a flat spot and you carry it there it will do the job rain or shine.

-Mike Goode