Trango 2 Tent 2-Person 4-Season
Item Details
|
Reviews
(
5
)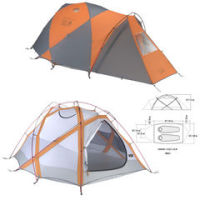 Description
The Mountain Hardwear Trangos multiple entries mean neither camper has to worry about being blocked in or out of the tent theres a front and rear door in the tent, and additional entries in the vestibule. Mountain Hardwears unique four-pole design allows for extra living space without sacrificing the tents stability and strength in all weather conditions. In addition, UVX windows let you assess the outside weather conditions, while enjoying the interior comfort of the Trango 2. Large stake-out loops accept skis and pickets, for added convenience. Combine the Trango 2 with a rectangular gear loft and a footprint to take advantage of every feature. The Trango 2 Tent has been a mountaineering staple for years, and Mountain Hardwear just updated it with new fabrics to increase strength and save weight. This tent takes on any storm that any mountain throws your way, provides a large vestibule for storage, and basically makes other winter tent look wimpy.
5 Reviews
There's a reason this is a standard tent for mountaineering
Review by: scottydo, 2009-03-19
I've had the chance to take this camping in the snow a couple times now (although nothing hardcore yet) and it is awesome! When you throw the fly over the tent and you can clip it into the footprint at all the stake pionts, then tighten it down; it just makes it bombproof. And it's not complicated to set up at all. I can set it up on my own (in mild conditions) in about 7-8 minutes. I can't wait to get it up on a mountain somewhere. This tent is totally worth the money (especially if you can find it on sale). Although if you want really light weight and 4 season then you have to be willing to spend more cash on Mountain Hardwear's EV tent.
Review
Review by: xzeroenemyx, 2006-09-20
The best tent i have owned. Roomy, Durable, not lightweight, but definatly not heavy
Review
Review by: climbhigh23, 2004-12-14
this tent is the perfect size for two adults. plenty of room inside for gear as well, as is needed when winter camping. sturdy as can be, plenty of vestibule space, tons of internal storage pockets for organizing gear.

is a bit heavy, but worth it in my opinion.
Review
Review by: rockmaninoff, 2004-08-13
A roomy and durable tent that is a bit pricy and heavy. This tent is very spacious inside. In extreme situations, three people can sleep relatively comfortably. On new models, interior pockets have been raised above floor level to keep stowed items from getting soaked. The "Tension Shelf" seems to be a little hokey for structural support, but works well as a shelf to store gear. This tent is durable enough to use on Everest. The "bathtub" floor keeps seams off the ground and out of water. If caught in severe weather, I would want to be in the Trango. If I were the only one to read this review, I would give the tent five carabiners based on its durability, ruggedness, and roominess. Weight (almost ten pounds) and price, which are very important factors to many readers, lead me to rate the product a four.
Review
Review by: rcaret, 2003-09-25
This sturdy tent can be used year-round to hold two people; because of its roomy interior, it could also accommodate a large amount of gear. The tent is very solid with four primary poles and internal guy system for strength against wind and snow accumulation. Special tension materials add support to the canopy and vestibule, and increase the tent's load-bearing capacity. In addition, the same material fortuitously adds interior shelf space. All stress points are heavily reinforced. The taffeta rainfly is factory taped for greater waterproofing, and the canopy and rainfly include a plastic window for outside visibility. The floor is also factory taped and has a triple polyurethane coating for greater abrasion resistance and waterproofing; moreover, its seams are raised off the ground for greater watertight operation. An additional pole is used to support the brow of the vestibule; this increases vestibule volume and adds a welcome awning over the front door. There is also a rear vestibule space and a back door. (Two D-shaped doors permit easy entry and exit and have mesh windows with ripstop covers). Mesh pockets line the interior sidewall perimeter, and there are hanging web loops as well. The tent can also be pitched using the rainfly and poles (and a separately available footprint). Minimum weight includes tent, poles, and rainfly only. Tent includes stuff sack, pole sack, peg sack, V-pegs, seam grip, and internal guy lines. This tent will safely shelter two people with lots of gear in harsh conditions.