Alpha 3/4 Tent
Item Details
|
Reviews
(
2
)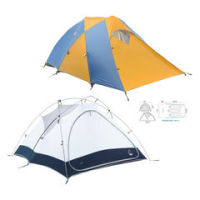 Description
One tent for everything you do? Believe it with the Alpha 3 Convertible, the miracle shelter that goes from four-season to three-season in seconds. With enough room for three tired backpackers, a vestibule with space enough for all the gear, and a reduced weight for 2008, the Alpha 3 is the one tent to throw in the truck for that endless road trip.
2 Reviews
Great 3/4 season
Review by: oldkyshark, 2006-12-14
A little on the heavy side but very versatile. Roof panel can be unzipped in summer for ventilation (or star-gazing) and zipped in winter for warmth.
Review
Review by: mdacar, 2006-04-03
I've only used this tent a few times and it's been pretty good so far. The ventilation is good with the big screen on top. And it's been good in the rain. Most of the water that got into it was from setting it up in the rain. It seems to be a little difficult to stake out properly. The sides always seem to want to come up a little. And for a 3 person tent it seems a bit on the small side. I wouldn't try and fit more than 2 people in here comfortably. On the whole though I like it.