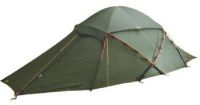 Manufacturer:
Hilleberg



This item may be available at:
Description
The Saivo has been totally redesigned for 2004! The new version is most likely the best tent for both base camp and people moving into seriously wild country. The Saivo is in a class of its own with truly generous dimensions, superior ventilation, unmatched stability, ease of handling in rough weather and this at only 4,7 kg / 10lbs 5oz!
Saivo has Hilleberg's innovative hooks system, allowing you to pitch the tent in more or less any environment. The guy lines are attached to long line loops which can be thrown around a cross section of poles before they are pegged down. Poles are a heavy duty 10 mm. The Saivo is self-supporting – only the vestibules need pegging. Two large vents are placed high up in the roof. They can be operated from inside and outside and are protected from rain by the large cover that spans over the four poles. Also the outer entrances can be opened at the top underneath the cover for extra ventilation. The cover has four guy lines, adding even more stability to the tent when the weather really gets nasty. The outer tent entrances are cut asymmetrically so that you can either open them from the top of the vestibule, at the end of it or from the side, all depending on wind and weather. The zippers of the outer entrances are secured with hooks at the bottom to avoid that these open in strong winds.
A great base camp tent, the new Saivo is of course also most suitable for trekking in the hills and will provide a heavenly home when on extended canoe trips.
A complete tent consists of inner and outer tent with guylines and runners, poles, pegs, stuff bags, spare pole section, repair sleeve and instructions.
OUTER TENT FABRIC: KERLON 1800
COLOURS: GREEN AND RED
* Min. weight: 4.3 kg / 9 lbs 7 oz ~ packed weight: 4.7 kg / 10 lbs 7 oz (Minimum weight includes inner tent, outer tent and poles while packed weight refers to the complete tent)
A complete tent consists of inner and outer tent with guylines and runners, poles, pegs, stuff bags, spare pole section, repair sleeve and instructions.
* inner tent height: 44 inches ~ area inner tent: 42 ft² ~ area vestibules: 14 ft² each
SAIVO ADVANTAGE:
~ Outer tent fabric in Kerlon 1800.
~ Inner tent fabric in water repellent and venting nylon.
~ Heavy duty nylon ground sheet with PU coating, high bathtub floor.
~ Pole attachment with hooks – facilitates pitching of larger dome and geodesic tents
~ Four poles of equal length in 10 mm diameter.
~ Adjustable peg loops.
~ Full size no-see-um netting in inner tent entrances (with covering panel).
~ Very spacious vestibules for (wet) gear, meals, etc.
~ Asymmetric entrances allow "dry" entry in any weather.
~ Large, fully adjustable vents high up in the roof, protected from the weather. Venting possible on four sides for through-draft
~ Vent cover adds stability to tent.
~ Outer tent zippers secured with hook and ring.
~ Linked inner and outer tents which pitch simultaneously – both can also be pitched separately.
~ Pitching of inner tent requires extra pole holders - see accessories.
~ Inner tent with multiple large pockets and loops for a clothes line.
Saivo is Sami and means Holy Lake.
Equipment
Poles: Aluminum 10 mm
Pole length: 4 x 157.5 in. (400cm)
Pegs: 22
Stuffbag, pole bag, peg bag, guy lines, line runners, spare pole section, pole repair sleeve, instructions.
1 Review
Excellent tent.
Review by: tichy, 2007-08-30
Having the older model with better (read bigger) vestibule. Excellent tent. It has been home in extremely rough weather over the years.