Stretch Dome Tent
Item Details
|
Reviews
(
1
)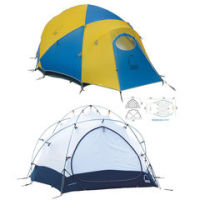 Description
When theres a chance of the weather body-slamming your adventure, youve got to come prepared. The Stretch Dome 3 arrives ready, with double-wall construction to laugh off condensation, Jakes Corners to stymie the wind, and best of all-with a reduced weight for Spring 08 Room for three and construction tough enough for the big mountain ranges of the world.
1 Review
tent
Review by: cribber, 2009-06-25
over all a good design with plenty of room for gear and tired climbers. wish it was a little more user friendly to set up. first time took over 2 hours good thing it was 2 pm in my back yard . i have had it more than a year now and its held up well. its heavy but once its up you could probably lay ontop of it. keep heat and moisture in very well definatly bring a candle lantern or leave the vents open to prevent a rain sjower in the morning...gross. good tent i would reccomend to others. mec has a rip off design if you need spare poles. there tent doesnt have all the re enforcement that the SD one does but its $100 cheeper.