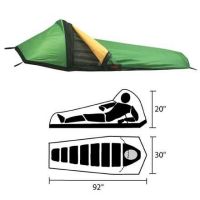 Manufacturer:
Bibler



This item may be available at:
Description
Designed to span the gap between the Hooped and Tripod Bivys, the new Bipod Bivy is both ultra-functional and comfortable. A shock-corded Easton aluminum pole arches over the head and shoulder area to provide a roomy space—allowing you to function freely in a slightly less claustrophobic environment. A large zippered entry on the Bipod Bivy provides easy access, great ventilation and rolls back to reveal a generously sized, no-see-um net door—so you can check out the stars or feel a pleasant breeze on your face.
* A lightweight bivy sack that adds comfort and protection to any bivouac
* Roomy on the inside and sets up in seconds flat
* Made of seam-taped, breathable ToddTex with nylon floor
1 Review
bipod
Review by: desertdude420, 2007-04-05
This is harder to set up than most family-sized tents and requires six stakes to stand up. Then you have to wiggle and twist your body to get into the thing! Once inside, forget about ever sleeping in the fetal position. It's too narrow. The only reason I didn't give this a rating of "one" is the fact that it so frickin' small and light, it's amazing! Take it anywhere but only use it in emergencies.