Hooped Bivy
Item Details
|
Reviews
(
1
)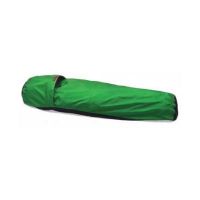 Manufacturer:
Bibler



This item may be available at:
Description
The ideal bivy sack provides you and your sleeping bag with protection from the elements, adds warmth to your night and keeps the bugs out. Our Hooped and Big Wall bivys do all this and are made from breathable and waterproof ToddTex. Both bivy sacks incorporate a wire rod that's sewn directly into the hood of the sack—so there's nothing to set up and no parts to lose. All seams have been factory seam taped for total waterproofness and both ends of the bag are "boxed" so they won't cramp your toes or compress sleeping bag loft. The Big Wall Bivy is perfect for use on a portaledge or any time a full-strength tie-in point is a necessity. By using RF welded seams, this tie-in point is completely waterproof—meaning no water can sneak in to soak you and your sleeping bag. Both models are available in Standard and Long.
* Extremely versatile, waterproof bivy sack
* Wire rod is sewn into the hood of the sack—no parts to lose and easy to set up
* Boxed head and foot areas keep things roomy
1 Review
Bibler Hooped Bivy Sack
Review by: strider, 2008-01-20
I have been using the hooped Bibler bivy for several years now and I could not be happier. I have used it on many a backpacking trip as a great alternative to a tent, although it means you partner needs one as well. I have also used it at the base of many a climb for a lightweight bivy set-up that has never failed to deliver a great night's sleep. I have never had condensation issues and the material has held up admirably so far, as long proper care is taken. I have slept several nights on a portaledge in it with no problems what so ever. And I have endured more than a few rainy nights with no leaking. Although, if extended weather (more than one night) is anticipated, I would gladly carry the extra weight of a tent. Try talking to your partner, shouting through bivy sacks in a storm.