SweetWater Microfilter Water Filter
Item Details
|
Reviews
(
2
)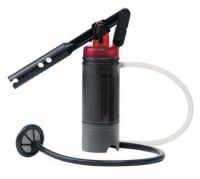 Description
Lightweight and compact, the SweetWater® Microfilter makes water filtration fast and easy.
* Fast Pumps water on both up and down strokes for a fast flow rate of 1.25 liters per minute.
* Easy to Use Unique lever-action pump handle has a 4-to-1 mechanical advantage, so you don't have to work as hard.
* Lightweight Weighing just 11 oz., it's one of the lightest filters on the market.
* Compact Handle folds flat when not in use for easy packing and storage.
* Dependable Eliminates over 99.9999% of all waterborne bacteria and 99.9% of common protozoan parasites, such as giardia and cryptosporidia.
* Simple to Maintain Simple brushing will restore a clogged filter, and the pump lets you know when the filter needs replacing (each cartridge filters up to 200 gallons of water).
Accessories Include: an 80-micron stainless-steel prefilter, two color-coded silicone hoses, foam float, water bottle adapter, cleaning brush, and carry bag
Weight: 11oz/320g
Size: 7.5x2in/19x5cm
Color: white or olive drab
2 Reviews
Review
Review by: coldclimb, 2004-11-13
Works quite well, but is rather slow compared to others I've used. No complaints from me, but not much praise either. It's just above "good".
Review
Review by: tyify, 2004-06-02
A good product but requires cleaning often. When the filters get dirty it starts to squirt water and when your pumping glacier streams thats no joke...Pumps very quickly for its size however. The nalgene adaptor is wonderful...Makes filling them considerably easier. The water out of this thing is often times better then the water out of a tap so no complaints about quality. All in all a good product except for the squirting issues.