SweetWater® Purifier System
Item Details
|
Reviews
(
1
)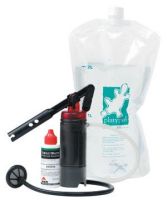 Description
Get added viral protection in popular wilderness areas and developing countries with this combination purifier system. The SweetWater® Microfilter removes waterborne bacteria and protozoan parasites, and the chlorine-based SweetWater® Purifier Solution effectively inactivates viruses.
This system meets U.S. EPA requirements for microbiological water purifiers.
* Iodine-free Inactivates viruses without bad-tasting iodine.
* Fast Pump at a fast flow rate of 1.25 liters per minute, then add five drops of the purifier solution per liter and wait five minutes for optimal protection.
* Easy to Use Lever-action pump handle has a 4-to-1 mechanical advantage and dual pump action, so you don't have to work as hard.
* Lightweight Entire system weighs just 14 ounces.
* Compact Handle folds flat when not in use for easy packing and storage.
* Dependable Inactivates 99.99% of waterborne viruses; eliminates over 99.9999% of all waterborne bacteria and 99.9% of common protozoan parasites, such as giardia and cryptosporidia, as well as particulates, bad tastes, and odors.
* All-in-One A Platypus® 2+ Liter Bottle that connects directly to the microfilter is included for easy treatment with the purifier solution.
Accessories Include: an 80 micron stainless-steel prefilter, two color-coded silicone hoses, foam float, water bottle adapter, cleaning brush, and carry bag Filter Life: Up to 750 liters (depending on conditions)
One Bottle of Sweetwater Purifier Solution: Treats up to 300 liters
Weight: 14 oz./395 g
Size: 7.5x2 in./19x5 cm
Color: White
1 Review
Review
Review by: lextalion, 2006-08-04
I have now had this filter for almost 7 years. This is the same filter that I use to use in the Marine Corps during the early 90's.

I like the ease of uses in comparison to other filters. It is very ergonomical in action, which enables me to enjoy pumping several gallons of water at a time when needed.

There are other filters that can pump a higher volume of water and filter out more stuff. However for the size and weight - this is the filter for me.

I had troubles with it this last year when doing a desert trip, where I pumped from a tenjane that had a lot of allege. Plug up after two nalgene bottles. However I solved the problm with a pre-silt filter made by Sweetwater and a new cartiage. Worked like a champ again this last trip in Yosemite's Lyell canyon.