MiniWorks/WaterWorks Maintenance Kit
Item Details
|
Reviews
(
1
)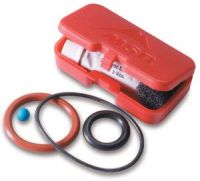 Description
The MSR Water Filter Maintenance Kit gives you the necessary extra parts to fix your MiniWorks or WaterWorks Water Filters out in the field. This MSR maintenance kit includes extra O-rings, stoppers, instructions, and a carry case.
1 Review
Review
Review by: ontario_guide, 2005-01-02
Key piece of gear if you own a MSR water filter.