Next

Red River Gorge Climbs
Item Details
|
Reviews
(
2
)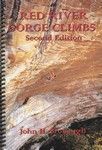 Description
Published by Geezer Press
2188 Madrone Way
Lexington, KY. 40513
This book written by John H. Bronaugh
This book has over 1000 routes listed.
2 Reviews
Great Book!
Review by: rudolphluciani, 2007-08-10
I can't really tell if this is the book I've used, but if it is, it's the best guidebook i've ever used and well worth the steep price. with glossy pages and color coded routes (blue for sport, red for trad, green for boulder), you cant go wrong. It also includes some amusing local history for tent reading back at Miguels. As the above review states, a must have!
Review
Review by: randomboulder, 2003-11-14
Excellent guidebook! Very detailed and comprehensive. Topview crag maps are extremely helpful, and its nice that they tell you height of the climbs and how many bolts for sport climbs. A definite must for the red.