Previous
The Red River Gorge
Item Details
|
Reviews
(
3
)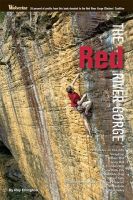 Manufacturer:
Other



This item may be available at:
Description
This guide includes 1311 routes on 104 cliffs including Military Wall, Long Wall, Fortress Wall, Funk Rock City, Roadside Crag, Torrent Falls, PMRP, the Motherlode, and Muir Valley.
3 Reviews
Great Achievement
Review by: waynebock, 2007-06-02
One of the most accurate and organized guide books I have seen...
Hmmm...wait, maybe it's too good!
Review
Review by: p0bray01, 2006-07-19
Ray's new revised version of the Red is great. Has gotten me in and out and UP the gorge many times over. Love it. Rivals Indian Creeks Guidebook. Color photos, height and bolt information. Plenty of info for guides etc. A+ !!!
Review
Review by: foyster, 2006-01-30
Lots of ads, stupid pic of some guy flicking off the cameraman, small font, and color(not really needed, would prefer cheaper black and white); these contribute to drop it to a 4. I haven't had a chance to get back to the red and test accuracy and completion yet, but that should be coming shortly. Routes are color coded for sport/trad/aid, and the indices are seperated by type as well(nice feature).