Red Rocks: A Climber's Guide
Item Details
|
Reviews
(
0
)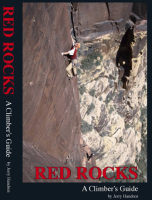 Description
This is a comprehensive guide to the rock climbs found in Red Rock Canyon National Conservation Area, twenty miles to the west of the Las Vegas strip in Southern Nevada.
Red Rocks offers the climber everything from sport routes and bouldering to big aid walls and long free routes. The reliable weather, beautiful surroundings and great climbing make Red Rocks one of North America's most popular destinations during the fall, winter, and spring.
This guidebook provides detailed information on over 1700 climbs, using full written descriptions, maps, topos and photo diagrams. It includes a substantial number of routes not found in previous guidebooks. It also expands on the descriptions of many of the older routes and attempts to correct many lingering errors. In compiling the route descriptions for both new and older climbs, I have tried to use recent, first-hand experience as much as possible. Many descriptions were culled from various Red Rocks locals within a few hours of an ascent. Also, in researching this book, I climbed hundreds of routes myself in an attempt to make this the most complete, detailed, and accurate Red Rocks guidebook to date.
The book is full color and printed on high quality coated paper to ensure crystal clear photographic reproduction. The binding is sewn/ saddle stitched to ensure excellent durability.
To provide historical background I have included a history, written with Larry DeAngelo, and also essays by Joanne Urioste, John Long and Larry Hamilton. To give a feel for the climbing there are over 60 action shots spread throughout the text, many featuring routes that have never appeared in print before.