The Self-Coached Climber
popular
Item Details
|
Reviews
(
8
)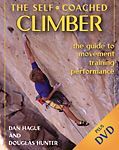 Description
The Self-Coached Climber model is based on the four fundamental physical components of all human movement: balance, force, time, and space. Each chapter begins with a conceptual explanation of the principles and then provides activities, developed during the authors' years as coaches, that allow you to see and feel the concepts at work in your movement. Chapters detailing physical training methods are based upon proven principles and practices adapted from the wider sports world and explain how to get the most out of your training efforts. The book concludes with specific guidelines for developing a personalized improvement plan.
8 Reviews

Write your own Review


Read all 8 reviews
SCC
Review by: sungam, 2011-12-01
When I talk to people about training, I recommend them this book every time.
The Self-Coached Climber
Review by: ajkclay, 2007-10-17
This is quite simply the only book you wil ever need to purchase on climbing performance. The information is exhaustive and impressive, useful for all climbers from beginners right through to advanced.

Texts of this quality in most subjects usually cost five times as much! The best value text I have ever bought!
Review
Review by: overlord, 2006-08-26
I was trying really hard to get this book via internet, but i just couldnt get it. So youll imagine my suprise as i walked into a bookstore in Slovenia and see it on the shelf.And now to the review.This book has something to offer to any climber, regardless of hes/her skill and experience. It offers some really good new insight into how climbing works and what the best ways to train are.I also have Performance rock climbing, but TSCC is better. And a big part of its quality comes from the DVD that comes with the book. Some of the techniques described could be confusing, especially for a beginner, despite the HQ pictures in the book itself. DVD is a really welcome addition and really fulfills the package. And the last video about redpointing really focuses on how using proper technique makes all the difference (i wish there were more than just one such video analysis, the volume of information in it is immense).So, in short, there is nothing in this book that i would call bad. The only thing i would change, as i stated previously, is adding some more analysis of actual climbs.5* for sure.
Review
Review by: ikefromla, 2006-07-02
As a self-declared VSC (Very Serious Climber), I found this book incredibly helpful for progressing to the next level. The DVD is great for anyone not incredibly proficient in climbing movement and the redpoint segment with Lick and Stack is sick.
Review
Review by: late_starter, 2006-03-13
The book is now available. Got mine 2 weeks ago directly from the publisher. I'm a newcomer to climbing, I think both the book and the DVD will be tremendously useful to me. Admittedly, I don't have a lot to compare it to, but I think that the book is well laid out and, with some study, fairly straightforward to understand. It is more like a scientific text than entertainment. Not a light read.

Stacy @ Stackpole was very helpful in keeping me posted on when the book would actually be available. Great service thx.

I'm giving it a 4 based on a first read of the book, and a first viewing of the DVD. I'll follow up when I have a chance to put it into practice.

Bryan.