Urban Climber
Item Details
|
Reviews
(
3
)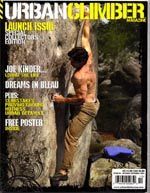 Manufacturer:
Other



This item may be available at:
Description
Bi-monthly (current issue is June/July '05)
3 Reviews
review
Review by: crag_addict, 2007-01-12
this mag has great stories, but isn't the cleanest mag out. i got this mag for free and read a couple stories and realized that there are better magazines out- at least for younger readers. this mag contained suggestive themes, bad words, and some unclean pictures. i know there are cuss words in other mags but most arent as bad as this with the other problems. if the mag cleaned up i would definately buy it. but i am glad i got an issue free first.
Review
Review by: jigsaw, 2006-02-11
This is the best bouldering mag out there, and being that it is one of the newest, just means they learned from others mistakes.
Review
Review by: cal_gundert05, 2005-07-07
No text provided