Climbing DVD - First Ascent
Item Details
|
Reviews
(
18
)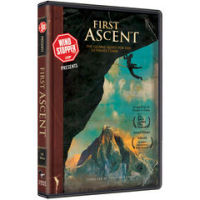 Description
Check out this action packed Climbing DVD, First Ascent.
18 Reviews

Write your own Review


Read all 18 reviews
Best I've seen yet
Review by: paul767, 2009-07-09
I don't know about everyone else but I find that most climbing movies are kind of boring, they are just footage of great climbers sending hard problems and not much else. This is the best climbing film I have seen, I love how you get to know the climbers personalities, and the soundtrack is awesome too.
Perfect!
Review by: USnavy, 2009-06-27
Superb film! A must for any dedicated climber.
Greatest climbing movie I've seen.
Review by: ClusterFock, 2008-01-29
This is by far the best climbing film I've had the pleasure of watching.
With a pumping opening scene/intro to the heartwarming ending that makes you so glad to be a climber, First Ascent is all about the passion of climbing.
The thing that I really love about this film is that it isn't all about flashy moves and sponsored climbers (man, I'm so sick of blatant use of quickdraws with PETZL written on it for sponsorship) but more so about why we climb. Why First Ascents are always going to be memorable and why we shouldn't let vanity and ego drive our passion for climbing.
Didier sums it up perfectly at the end of the film. "If you're a guy full of shit without the gold medal...when you get the gold medal, you're still a guy full of shit"
First Ascent is what it's all about. Great scenery. Great soundtrack. Beautiful climbing. A great variety in climbers and professional editing.
Amazing.
Review by: PatMcGinn, 2008-01-11
Period. This movie is very good, I loved every minute of it, awesome climbs great music, and just phenomenal filming.
First Ascent
Review by: puerto, 2007-12-25
Outstanding! The haunting song that anchors the film = Devotchka - "How it Ends"