King Lines
Item Details
|
Reviews
(
1
)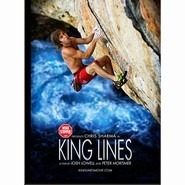 Manufacturer:
Vista Cerro



This item may be available at:
Description
King Lines, a film by Josh Lowell and Peter Mortimer respectfully Big UP and Sender Films follows the spiritually centered, talented and humble Chris Sharma on his journeys, encounters and quests for the best, biggest lines all over the worlds best climbing areas. With a combination of still photography, professional video shots and articulate interviews, you will find you just cant stop watching the incredible scenery and even better climbing. Watch Sharma as he travels to South America to boulder and the sweeping limestone cliffs of Europe as he climbs the hardest, most spectacular routes he can find. Click here to see the King Lines trailer
1 Review
Captures the true essence of climbing.
Review by: Rogue0572, 2009-07-20
More than a documentary about climbing. It actually has a strong message within it. In fact, the movie is built around that message. Its a movie about friends, failure, determination, humbleness,and last but not least CLIMBING!

And yes there is alot of it in this DVD. The scenery in this film is amazing. Mallorca is just beautiful. The arch(Es Pontas) was truly a motivational scene. I like how the movie begins AND ends with the arch. That is why the message of "Never give up" is brought out so well.

I highly recommend this film to anyone who enjoys climbing. If anything, its a great motivational film for when you have an off day climbing.