Next

Apex Trail
Item Details
|
Reviews
(
1
)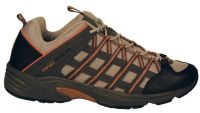 Manufacturer:
Mad Rock



This item may be available at:
Description
Next time you're in a hurry, slip on a pair of Apex Trail running shoes. Based on the Mad Rock theory of sticky, these shoes give solid contact on any surface you may encounter. No corners were cut when it came to comfort either. Fully padded with an EVA foam sole, this ultra-light winner gives new meaning to "the runner's high." So "hit it" with the Apex Trail and find your own personal happy place; we certainly did.
Sole: 3-D compression molded, trail runner sole, Mad Rubber Formula #5
Rand: 2.2mm Mad Rubber Formula #4
Midsole: Molded EVA
Upper: 3-D mesh ultra-breathable padded cuff, synthetic upper with rubber-impregnated poyester toe and heel areas
Construction: Double stitched, Padded heel cuff, 2.0mm lightweight brushed polyester foam sandwich lining
Entry/Closure: Lockdown lacing system
Available Sizes: US 3 to 13
1 Review
Trail Runner
Review by: madrock, 2007-05-18
ITs a great trail runner and good for kicking around town. Its mae to be super light so dont expect ti to hold up if you are using it for hard aproaches or climbing. It does have real climbing rubber on it so is super sticky.