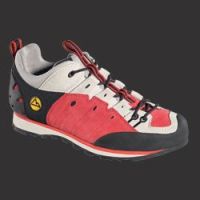 Manufacturer:
La Sportiva



This item may be available at:
Description
This sticky puppy feathers the edge between approach shoe and climbing boot, offering beaucoup impact resistance, killer support and a snug, precise fit.
Fully randed toe box and FriXion® XT under the foot – sticky XF rubber in the "climbing zone" makes the B5 shine on easier routes
Save your knees: patent-pending Impact Brake System (IBS) lugs and softer AT lugs in the impact zones take the pain for you
Low-profile lacing system won't snag in cracks
Narrow chiseled toe box for amazing technical climbing performance
Finally: An approach-shoe hybrid that walks the talk!
COLOR: Red UPPER: Leather/Flex Tec 2/FriXion® rubber rands CONSTRUCTION: Board Lasted LAST: Hi-per LINING: Mesh SOLE: FriXion® XT/Approach IBS MIDSOLE: Micropore EVA INSOLE: 2mm polypropylene WEIGHT: 1 lbs 10 oz
2 Reviews
B5 achieves all the mountaineers requirements
Review by: bortoletto, 2008-04-24
I decided to get B5 once the climbing season is coming. I knew that this approach shoes does not has any coat against water and considering that I live in a country where it rains almost every day in summer I started to avoid using it during such season. But taking a look on this shoes I recognized that they are ready for all season. Well, in a few days a got lots of rain in delicated terrain and I felt really safe on wet slab. Even tough the shoes were completed wet, they didnīt lose any performance and the weight didnīt increase so much. The only problem that I noticed so far is some wear on the lace. I recommend this shoes for every one who needs extra performance in steep ground.
Review
Review by: tallnik, 2006-08-20
Just did a "Big Day Out" in these shoes. 20hrs on the go almost non-stop. The shoes hike really well, and the sticky rubber is certainly appreciated on mossy, wet, rock. The impact absorption was noticeable, and my feet were in better shape than my partner's at the end of the day. I climbed up to 5.7 in these shoes no problem on some edgy-stuff and slab. For smearing on climbs harder than 5.8 I'd still recommend climbing shoes. But for edgy climbs some freaks out there could crank 5.10 in these I'm sure. The best thing about these shoes is that they dry out super fast! After wading into a creek they were dry after 2 more hours of hiking and the 4hr climb. My friend's Merrel Trail Running shoes were still soaked the next morning 12hrs+ later! I highly recommend these shoes!