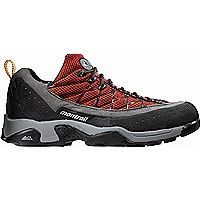 Manufacturer:
Montrail



This item may be available at:
Description
Technical from start to finish, the CTC trail runner from Montrail blends runner speed with approach stability.
Features:
* The FasTrax carbon rubber/Gryptonite™ outsole, which is randed and sheathed with grippy rubber, climbs expertly
* A single-density EVA midsole cushions the effects of compression
* TPU-reinforced hydrophobic synthetic leather/mesh upper is light and breathable
* They have full-length TerraFlex™ LA protection plates
Specifications:
* Weight per pair: 1 lb 12 oz (size 9)
* Upper: Synthetic
* Midsole: EVA
* Lining: Nylex
* Outsole: Gryptonite

6 Reviews

Write your own Review


Read all 6 reviews
Review
Review by: nthusiastj, 2006-06-26
I've had manufaturers tell me approach shoes aren't meant for everyday wear and wear out quickly that way. I've had these shoes for over a year now. I wore them every day of a 10 month roadtrip and they are still in good shape. The cushion is finally getting thin, but the tread is still going strong and sticky. If you want good approach shoes that will last, buy a pair.
Review
Review by: dothemountain, 2006-02-20
I love these shoes! The CTC was my first approach shoe and so having said that I really can't compare them to anything else except old sneakers and stiff boots. They are perfect for romping around the woods scouting for new boulders. I've been impressed with the snug yet comfortable fit and how well I can boulder in them. I've been using them to just play around on the rock until I find something I really want to get into. Saves the time and effort of changing in and out of the climbing shoe. Thanks Montrail!
Review
Review by: cchildre, 2006-01-06
There are always going to be those with odd sized feet. So no shoe is for everyone. Mine are no exception. This is my first approach shoe, and I must say that I am already sold. My gear whore buddies that work at the shop have blown out and destroyed most of their approch shoes seemingly quickly. I still don't know how these will fair in the long term. That said, I love these shoes. They are comfortable, stable, and lace up very nicely. Getting the right fit was key and they were just perfect. To qualify, I need a little more arch support and have generally been disappointed by the support I have gotten from any shoe, even boots. The thermal moldable insoles that you can get for these shoes is amazing. I got these for my two week marathon of climbing at Red Rocks and Joshua Tree, and feared that the toll would be too great on my feet. Last year one week in Potreo had me limping home and taking off two months to recover. This year, nothing but good times, sore muscles, and my feet have never felt better after such abuse. The rubber is awesome and traction was unprecedented, at least to me. A perfect shoe for this Noob. Where did Jung get the grey pair?
Review
Review by: static_endurance, 2005-12-31
I picked up my CTC's over a pair of Vasque Velocity's rather grudgingly back in May, and never looked back. They've been absolutely awesome in all situations, from easy climbing to trail running to just strolling around town. I haven't worn any other shoes since, yet these shoes, though dirty and somewhat cosmetically damaged, show no sign of giving up soon. And even after 8 or so months, the climbing tread at the bottom still exists in a big way. My kudos to Montrail for another awesome shoe.
Review
Review by: tenesmus, 2005-12-29
These shoes kind of run short. I wear a 12 in the D7 and had to bump up to a 13. I still smashed my big toenail to pieces running through a boulder field. Kind of sucks that way. No matter how I lace them I still bump up there (and they are a size too big). 95 bucks of bummer.