Exum Ridge
Item Details
|
Reviews
(
5
)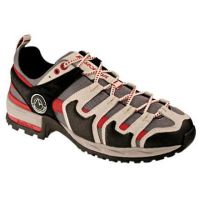 Manufacturer:
La Sportiva



This item may be available at:
Description
A radical hybrid with an amazing fusion of running shoe, approach shoe, adventure racing and multi-purpose outdoor features. Ideally suited to adventure running, approach, scrambling, speed ascents, cross training, bouldering, adventure racing, getting to the crags or lunatic-fringe mountain running. The Exum Ridge is our stiffest mountain running® shoe.
SST (Slingshot Stabilization Technology) lacing yoke and down to the toes lacing for stable lock-down performance on hairball terrain.
High-performance traction with an innovative synergy of climbing shoe dot treads in the front, trail running traction in the back and an in-cut Trail Bite heel brake for downhill control in loose talus and snow.
Hybrid Suspension E.S.P. protection plate provides flexibility in the forefoot, a functional Edging Stabilization Platform for torsional rigidity and protection from stone bruises.
Protective UreTech coating defends from rocks, talus and scree and a single layer mesh upper for ventilation and quick drainage.
Sticky FriXion® climbing rubber outsole for the ultimate performance advantage.
5 Reviews
Review
Review by: scotty1974, 2006-05-30
Very sticky shoes, great for the approach especially up steep slabs and ridges. Nice ventilation, but I agree with the other reviews that the shoe allows too much dirt in. I end up with dirty socks and pebbles in the bottom of my shoe. They could also be a little stiffer as they flex quite a bit going over rubble. On a rougher approach I would like to find a stiffer shoe, but these work great for normal approaches.
Review
Review by: swimming_dragon, 2005-12-14
Great shoes for steep walk-ins and scrambly loose walk-off descent gullies. Good ventilation for hot weather wear. the heel is a great feature. It helps me feel more confident on descents.
Review
Review by: pointy, 2005-11-20
Excellent shoes. The fit is key. For me they're tight enough that i can cinch down the laces to climb in, but loose enough that i can hike downhill with a big pack on. I've used them for a 10 mile approach hike with a 70 lb pack. I find i can lead about 2 number grades below what i lead in normal climbing shoes with these on. The rubber is plenty sticky, and the incut heel is great for quickly finding aider steps on windy days.

They are well ventilated, which is sort of a downside in dusty areas like Yosemite, because my feet and socks got unusually dirty. It would also be nice if they were stiffer, as the edging leaves a little to be desired. Other than these 2 minor complaints, they're great. After a year and a half of hard use i'm retiring my first pair and getting another.
Review
Review by: jeremy11, 2005-10-27
great do everything shoes. trail running, hiking, backpacking, class 3-4 mountain routes, easy climbing, ... they are just great. I also happened to get three pairs from campmor for 30 each, and I am just starting on the second pair :)
Review
Review by: jstumpf, 2004-11-29
I had a pair of these before Sportiva redesigned them. They performed spectacularly for everything from light bouldering through packing 35+ pounds through Desolation Wilderness. My only issue with them was the fact that the fabric around the ball of the foot blew out on both shoes after about 9 months (keep in mind that was 9 months of constant, heavy use, though). With the new design, it seems Sportiva has solved this problem. I'm going to give the new ones a try very soon.