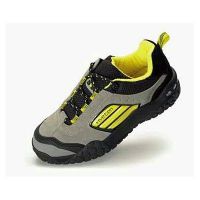 Manufacturer:
Five Ten



This item may be available at:
1 Review
Review
Review by: cliffhanger9, 2004-02-23
these are decent shoes - probably the most comfortable shoes i own!! (have this pretty cool 1-piece tounge which sorta wraps your foot and is hella comfy!) they have a solid construction and have the S1 Stealth sticky rubber on the bottom which rocks - but these are not exactly the best shoes for approach - they are alot more like sneakers and were a bit wide for me so not much support for approaches - found em on sale and only paid about 30$ for 'em anyway! hehe - rock on!!