STICKY TWIST
Item Details
|
Reviews
(
2
)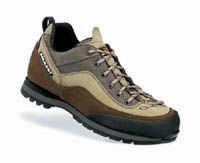 Manufacturer:
Garmont



This item may be available at:
Description
Upper: 1.8 mm Suede+CorduraŽ
Lining: Garmont QDS
Sole: VibramŽ Sebolet
Color: Grey
Sizes: 3 - 13 + 1/2
Weight: gr. 460

Application: - Approach - Low grade climbing - Bouldering - Recreational user in gyms - Everyday casual / campus
2 Reviews
Review
Review by: superbum, 2005-09-14
Well built shoe...this thing will last. Nice ridgidity in the midsole...edges well. Even so, I hate them. For one the rubber is not sticky! they do not smear worth a crap due to this and the fact that they are so stiff. Also, my feet are in pain after about 1-2 miles. My big toes are sore from hitting the front, and my heels have blisters (yea, I probably bought them a half size too small, but they felt roomy in the store...) This is no good when you transfer into your climbing shoes after an approach...you already feel as if you've topped out! Lastly, the insoles that they give you are THIN and the midsole is so HARD. I had to buy a custom gel footbed and it still felt like I was walking on linoleum. No arch support either. I did give them a three because they sit well in aiders, edge well, are built to last, and I probably sized them too small (user error.)
Review
Review by: maxclimber1w, 2005-02-27
Pretty good shoe. Edges like crazy in the beginning, but is pretty heavy duty and is not made for technical edging. Durable, but I replaced the stock insole with a custon one (the original is thin as hell). I can climb some 5.10 stuff in these shoes, but only if its short. Wouldn't recommend crack climbing in them. They are also highly water resistant, especially if you use some glue or silicone to seal the welt.