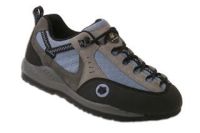 Manufacturer:
Evolv



This item may be available at:
Description
4mm TRAX™ XT-5 sticky dot rubber sole from TRAX RUBBER Co.
The leading choice of climbing shoe rubber with high traction (friction and grip) and balanced hardness for superb smearing and edging.
Breatheable mesh upper with leather reinforcement.
Heel Tensioning System: When you need the extra security in the heel for doing scary and tricky scrambling, lace them up through the heel tensioning loop and get a tighter fit.
Sizes available: 5.5 to 10.5 with half sizes.

Editors Review
| | |
| --- | --- |
| | Pmyche does battle on El Cap with the new Evolv Strykers! |
2 Reviews
No edging ability!
Review by: climberdaved, 2009-01-11
This is a very capable hiking shoe, the rubber is great, and the cushioning in the sole is very comfy. However, don't buy this shoe expecting you'll be able to edge with it, *at all!* No matter how tightly you fit the shoe, the inside and outside edges of the toebox will wind up pretty far from your actual toe, and the edges are so floppy that anything you step on will have to be at least an inch wide, otherwise you'll pop right off. This shoe jams pretty well, and you really can't complain about Evolv's rubber, but if it can't edge it's a hiking shoe and not an approach shoe.
evolv is life
Review by: brandt, 2007-02-03
This shoe has such a sleek design yet it has an ruggedly urban temperament. It feels good on the foot and in the hands and I love the color. I take this shoe dancing almost as much as I take it on the approach.