Superfly
Item Details
|
Reviews
(
2
)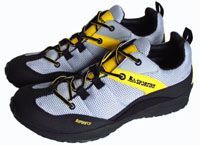 Manufacturer:
La Sportiva



This item may be available at:
Description
Same game, new rules. The SUPERFLY is built for trail running, lightning fast approaches and speed ascents on casual rock. This super technical fitted fly weight shoe can be clipped to your harness or folded flat (the heel is "hinged") and stashed in your backpack while cranking the moves in your high perfomance smooth soled shoes. For low volume packing: fold heels flat, stack top side heel-to-toe and secure with laces. The product uses the same type of rubber used on climbing shoes, and some will say they are great for climbing. This is true on very rough rock, but slab or slick spots, they are useless. Great shoes though, and highly recommend. Look around for a deal, and you can find them, especially after the season, and when the new line is coming out.
2 Reviews
Review
Review by: dynoguy, 2004-10-24
awesome shoes for sketchy 4th class approaches. If you size them a comfortably tight you can climb up to about 5.5 as long as the rock isn't really smooth (i've used them on Smith Rock volcanic tuff).
Review
Review by: joe_johnson, 2004-02-24
These shoes are great, very sticky climbing rubber on the bottom, and it uses a really cool dot design. These shoes are terrific, and make me feel more confident on hard rocky approaches.