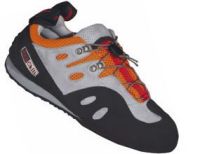 Manufacturer:
Red Chili



This item may be available at:
Description
Al last, the real deal! The Tornado is a true hybrid that sets new standards in fit, build quality and performance. Combining a deft, subtle feel with a surefootedness and solidity that gives total confidence the Tornado offers a combination of climability and comfort that has to be felt to be believed.
With a reassuring build and definitive rockshoe feel at the toe, Tornado has a lower volume forefoot and less asymmetry and extra protection via our extendet randing - perfect for cracks or descents. At the heel the attention to detail is no less complete but is more comfort orientated, with a trainer feel and fit giving cushioning and protection second to none and a style adapted from "adventure" race shoe designs!! The art in the Tornado is the combination of these two parts to form a consistent whole. Red Chili achieved this by utilising a sewn in tongue and unique "quicklace/garage" system. This has the fast adjustment and comfort of a trainer with the solid, supportive "locked-in" fit required by a rockshoe. Finished off with a dot sole for top traction in a variety of conditions and extra rubber on the heel for support and descents, the Tornado adapts to the widest range of challenges and grades.
First true performance hybrid
Unique "Quicklase/Garage" system
Top build quality for ultimate longevity
Full cushioned heel
Full stability heel cup
"Trainer style" upper heel comfort and support
Dot sole heel for extra traction
Variegated rand for forefoot protection
Superb vibrant colours
Broad low profile lasting for easy fit
1,8mm pre-stretched leather
Sizes Uk 3-12 inkluding half sizes
1 Review
Review
Review by: price1869, 2005-10-15
I bought a size too big, but still grips the tiniest ledges. Unfortunately, I've already punched through the toe on one shoe. Seeing if Red Chili will remedy the problem.