Vasque Catylyst
Item Details
|
Reviews
(
3
)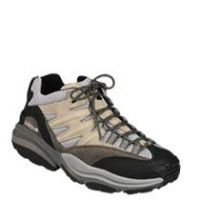 Description
Lace-to-toe styling, a Stealth® rubber outsole, and breathable Airmesh and leather uppers make this trail trainer perfectly suited to long approaches and moving fast over variable terrain. It's more supportive than a trail runner, yet still built for athletic performance.
3 Reviews
Review
Review by: cruzinsouthoc, 2005-08-28
I've had these for two years and I love them...the rubber toe guard thingy is starting to peel back on one of them, but that's it. They're super comfy too. I got the gore tex XCR model and it's awesome to just walk through streams or muddy trail sections.

I use these as my approach shoes and I'll attest to the stickiness of the rubber. Use them on 3rd and 4th class ascents/descents like the ones at Tahquitz. Great for boulder hopping with confidence too. The only times I've ever slipped in these shoes was due to my own clumsiness :)

Seriously, when it comes time to replace them, I may just drive over to REI and get the same shoes again.
Review
Review by: eric, 2005-01-07
Excellent shoe. I agree they're very sticky and I find myself climbing in them on easier grades all the time.
Review
Review by: scubasnyder, 2004-11-09
These shoes are awsome, they have stealth rubber. They grip like no other shoe ive ever had, if you dont have them get them. There is even a gore-tex model.