Vasque Pingora
Item Details
|
Reviews
(
3
)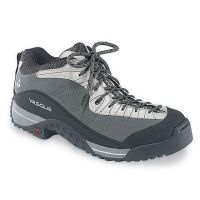 Description
The Vasque Pingora is a new sticky rubber technical approach shoe designed to strike a balance between climbing performance and hiking comfort. The new technical outsole uses Stealth S1 rubber to deliver ultimate friction, while the low-profile lug design incorporates and edging zone. These babies will give you suction-cup like grip on any terrain. The synthetic suede upper is waterproof and breathable, so you'll arrive at your climb comfortable, dry and ready to go. The low volume Pingora has a high-performance technical fit, accomplished in part by the asymmetrical lacing system.
3 Reviews
Hikes great, but not the best climber
Review by: climbingaggie03, 2007-12-20
I love my vasques, I have used them for cragging approaches, guiding, long approaches, and aiding. These shoes are like hiking shoes with sticky rubber in my opinion, the toes are so clunky and thick that it's hard to tell what your foot is on when you are climbing in them. I love walking and climbing up to 4th class with them though. I think they're ideal for long low difficulty routes, like the cables route on longs, maybe some routes in the tetons, ect.

The soles give plenty of confidence inspiring grip, and have shown minimal wear for the mileage they have seen. The uppers on the other hand have not held up as well.

My first few days in these shoes were spent in Joshua tree setting anchors for a top rope anchors course. We did lots of scrambling around to get to the tops of climbs, and by the end of the 5 day course, the seams on the outside of the uppers on both shoes were blown out. I was on alot of coarse granite and I don't think there was a defect with the stitching, just a poor place for a seam, because every time you jam your foot in a crack, you rub that seam on the side of the shoe against the rock.

they are super comfy though, and do look good though, and are great for hitting the town or the crag.
Review
Review by: zapata, 2006-04-17
One of the nicest approach shoe's I've tried. I liked the 5.10 mtn masters but, like most people, they wore out way faster than they should have. This shoe will not wear out nearly as fast, is comfortable from the box and supa sticky.
Review
Review by: unrooted, 2005-02-28
The best approach shoe I have ever worn, very comfortable, great rubber, look really good even with jeans!