AFS 8000
Item Details
|
Reviews
(
2
)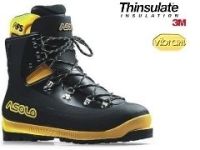 Manufacturer:
Asolo



This item may be available at:
Description
Suitable for altitudes over 5000 m, winter and ice climbing.
Asolo-Vibram sole presents a low profile for a better comfort and a design with an excellent grip suitable on all the terrains. It grants a perfect grip on the rocks. It is highly abrasion resistant and the Shock Absorber is in the heel to mitigate the high impact areas on the foot.
2 Reviews
Review
Review by: mtselman, 2004-06-08
Have to agree! For me this is the best fitting boot. Period. I have tried a variety of high end leather boots and nothing compares to these in combination of warmth, convenience of a double boot, zero heel slip/raise. Excellent on ice/snow routes.
Review
Review by: zoob, 2004-04-27
I am so so happy with this boot! After many years of fussing with the non- walkable Scarpa Inverno/Vegas I have found the boot for me. I have a large size 12 foot with a 13 arch and my foot is also wide. This is the first plastic boot where I get no heel slip! They are surprisingly easy to walk/approach in with good forward flex that does not pinch your shin.
A bit spendy but well worth it. Also the over all boot is low volume so you dont have to worry about feet and movement like frankenstein!
Classic Vibram sole pattern that is quite sticky and edges well. The boot sports a carbon fiber "foot chasis" which wrapps the toe box shank and heel cup all in one. I think this gives the boot great control and balance, not to mention these plastics are only slightly heavier than a pair of leather Makalus! Really nice and light! Boot provides two lacing systems that are both actually on the shell. The standard outer laces secure the plastic tongue and the inner laces are not on the inner boot but on the inside of the shell. This Makes for a better fit (beleive it or not) and probably aids in walking. I havent had then in totally cold weather yet, but I am not doubting their capability to handle -20 or lower, Honest, I have done the Fairbanks thing! I have done the Barrow thing too.
CAnt find a good fit.. well plastics are finikey.... Don't hesitate to give these a shot.
Cheers