Alpine GTX
Item Details
|
Reviews
(
1
)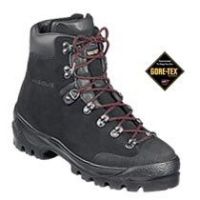 Description
Equally comfortable on extended alpine treks or peak bagging expeditions to 14ers the world over, this light-duty leather mountaineering boot has a GORE-TEX® liner and supportive-yet-flexible Vibram® sole with step-in crampon compatibility.
Upper: 3.2mm Perwanger Leather
Insole: Light Alpine Monoflex
Plate:
Outsole: Vibram® Clusaz Dual Density Rubber
Lining: 3-Bar Knit Nylon
Footbed: Tri-Wick Contoured
Other: Gemini Double Tongue; Padded Collar; Crampon Compatible
1 Review
Review
Review by: blankslate, 2006-06-29
i have used this boot for non-technical climbing in upstate new york and the andean region of ecuador. i hiked up to the edges of the glaciers at chimborazo and carihuairazo through all sorts of steep high-altitude terrain, but i didn't use for glacier travel.
fit: these shoes are fairly narrow, but i had to add a low-profile insole to dial in the fit. also, lacing is extremely sensitive. i had to play around with different tension for the laces over the forefoot and around the ankle to achieve the right amount of give as i tackled 50deg terrain.
comfort/durability: these kept my feet toasty at below-freezing temperatures and just 'felt' good. i took a pair of salomon gtx light hiking boots on the same trip, and a part broke off as i was sloshing through a cloud forest (paramo humido). the vasques are ultradurable and tough and waterproof. the mud was terrible and at spots i sank up to my ankles, but they held up fine.

the only thing i can't analyze about this shoe is how it works with crampons.
complaint: these are full=on leather (high-quality leather) and fairly weighty. could they lighten the load a little bit. it just depends on what style of trekking or alpining you're doing, but weight could become a factor in more technical sieges.

all around a very attractive boot that should conform to your foot after a break-in period!