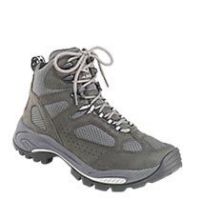 Description
I have yet to use these boots so i can't say if they are good or bad. What i do know is that these are very light boots and they are very breathable. The only think i don't like about them is they don't have Gor-tex... although i will put some waterproofing on them i still think the airmesh well let some water in. I did test this out... the water did bead up after i put some waterproofing on them but some water did get in the mesh area. But then again i didn't buy them to walk in water i bought them for the light weight and breathable factors.
2 Reviews
Review
Review by: p0bray01, 2005-11-01
This is actually a review of the Breeze GTX. As an avid climber, and soon becoming a hiking enthusiast I wanted a good all around packing/hiking boot that would last me through long treks as well as walks to the crags. This performed beautifully!!!! As a matter of fact on the first day I wore them they were SO sticky I climbed a short route in them! Vasque lover for life! No I repeat NO blisters yet. However, I have not hiked futher than 2-3 miles. They are extremely light and really allow you to pick up the pace when you need to book it. Plus they are stylish enough that I wear them around campus when there is Ice. Havent fallen yet!

A +++++++

If you are new to hiking/backpacking or just want a decent approach shoe for the crags give these a try. However, I would not carry more than 40 lbs on your back though.
Review
Review by: yamama, 2005-05-07
I went on a 17 mile hike while breaking these things in and they were great... only got one blister on the back of my heal... duck tape saves me again!

BTW this was my first backpacking trip and i was expecting alot more foot related problems... but only 1 blister