I.C.E. 9
Item Details
|
Reviews
(
2
)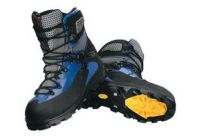 Manufacturer:
Montrail



This item may be available at:
Description
The I.C.E. 9 is designed for alpine climbing, where insulation, waterproofness, support and protection are essential. However, it is not comparable to any other boot on the market for three main reasons:
It is built on the I.C.E. system giving it superior control, feel, and power on vertical ice and rock. The low-profile upper design conforms snugly to your foot while providing excellent ankle support and allowing more precise footwork and athletic climbing. Without the crampon, the boot is flexible enough for comfortable and efficient hiking or climbing.
It feels like an athletic shoe, not a boot. Light, nimble, and comfortable. After ice climbing in the boots for the first time, Jim Donini noted, "I felt liberated. Finally able to use my feet on ice the way I can use them on rock."
2 Reviews
Review
Review by: slickrock, 2005-11-25
I have worn my ICE 9's twice for winter climbs in snow and on rock. I'm rating them a 4 only because I haven't had a chance to get on them on vertical ice yet. They are comfortable and a pleasure on approaches. Light weight, warm, dry, stiff carbon fiber midsole, supportive and nimble..easy to feel the rock in these babies. Would prefer plactics on expedition stuff. I have talked to a couple of guys who sawed off the steel crampon brackets as Montrail won't have their special crampons back on the market for some time. So far I haven't encountered any footing problems because of them so I'm leaving them intact. Zapos.com may still have a great buy on these.
Review
Review by: rendog, 2004-03-02
Ok I'm a bit biased here (montrail gave me the set-up for free for some pics that I did with 'em...sorry about the spray)

I took these out in the Canadian Rockies in Jan. this year. The first day out it was around -28C (that's as far down as the mercury would go so I have no Idea just how cold it actually was) sure my feet were chilly, but my buddy was wearing a pair of plastics and his feet were cold too . after I got moving they warmed up and I didn't have too much problem with 'em.
They work great, I can walk freely in them on approaches, Hell I can even drive in them if you can believe that... then when I get to the ice, I step into the crampons and the whole boot locks down solid, to provide a very stable platform to climb.
I've had these things on WI4- WI6+ and M4-M8+ and as always they feel as much as my climbing shoes would feel if they had a bunch of spikes attached to them.
I've been a major advocate of plastic boots for the last 7 years of ice climbing, but these just feel amazing...and at only 2 Lbs well...
The only concern that I have with them is the slots that the crampons are attached to in the sole. If anything happens to them ie. bend, crack, break etc, then how are they going to be replaced? they're moulded right into the sole of the boot. Also walking on rocks can be a bit tricky if you happen to step right on the tangs in the sole. it takes a little getting used to them but once you do...man oh man you will be a changed person