Ice 9000
Item Details
|
Reviews
(
3
)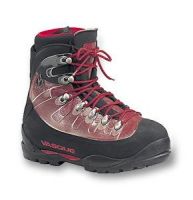 Description
Replace leather with Exo-Therm™, lugs with Stealth® rubber, and steel shanks with lightweight carbon fiber. The result: lighter, warmer, more flexible double boots built for the world's wildest mountains.
Upper: Exo-therm™ Composite Upper Fabric
Insole: Carbon Fiber
Midsole: EVA
Plate:
Outsole: Skywalk Fitzroy with Stealth MT Rubber
Lining: Drilex
Footbed: Insulated
Other: Stretch Cordura Tongue Gusset; Full perimeter rubber Rand; Padded Collar; Crampon Compatible
3 Reviews
painful mountaineering boot is warm!
Review by: stoehnercd, 2008-11-21
I bought these several years ago and still have not managed to get my feet comfortable in them. I agree with adamtd if you have wide feet dont bother...well I guess it doesnt really matter as Vasque is no longer making them. Yknow come to think of it Vasque had really bad customer service when it came down to it. Im changing my rating to a two.
On the upside though they are very warm.
Review
Review by: e_wire, 2005-11-28
I've been climbing with these boots for over a full season now. Used them for more then 30 ice climbing days and many high/cold mountain stuff. Way better then the Yellow Plastic stuff. Not only warmer, but also lighter. The C4 sole is also shaped to permit "normal" walking, rather then robot walking with the Yellow Boots. In my book, the best double rigid boots to this day.
Review
Review by: adamtd, 2005-03-05
It's true, they are warmer than a dutch oven. These boots are great for really cold temperatures. They are on the bulky side, but what double plastic boot isn't. Teh upper is far more flexible than your usually double plastic boots wich is nice. The foot print is actually quite narrow for as wide as teh boot upper is, so it does take soem getting used to. Don't buy this boot if you have wide feet.