Ice 9000 (2005)
Item Details
|
Reviews
(
2
)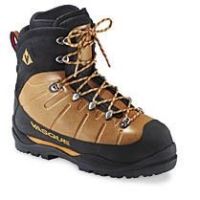 Description
Replace leather with Exo-Therm™, lugs with Stealth® rubber, and steel shanks with lightweight carbon fiber. The result: lighter, warmer, more flexible double boots built for the world's wildest mountains. Upper: Exo-Therm Composite Leather Insole: Carbon Fiber Midsole: EVA Outsole: Skywalk Fitzroy with Stealth MT Rubber Lining: Drilex Footbed: Insulated Other: Rubber Rand; Padded Collar; Crampon Compatible
2 Reviews
Everest Boot
Review by: stoehnercd, 2007-09-19
This is top of the line. Solid construction, sound weight, and perfect performance make this boot the best on the market. I have tried other boots in all kinds of conditions. I got frostbite on an alpine trip years ago and as a result my toes ache, but not in this boot!
Review
Review by: ratintraining, 2006-03-13
Accidently forgot to put on my wool sock over the polypro liner one day, and never even noticed untill I took the boot off later that day. Bomber construction, and super warm.