Intuition Denali Liner
Item Details
|
Reviews
(
1
)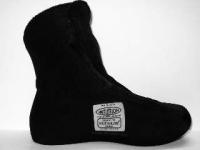 Manufacturer:
Other



This item may be available at:
Description
Intuition Denali Liners are a substitute for the stock liners that come with the plastic mountaneering boots. These liners made from ultralon closed cell foam can be custom molded to fit both the feet as well as the plastic shell, are warm and are extremely light.
1 Review
Review
Review by: sergeidude, 2006-10-10
I am writing this review having paid full price for the liners just to distribute some information that I think might be useful to other climbers.


SUMMARY: Intuition Denali liners proved to be incredibly light, warm and comfortable replacement for the stock Koflach liners. At the suggested manufacturers price of $165 dollars you get a pair of light liners (around three times lighter for a size 12 liner) that can be custom fitted through a typical heat molding process, which allows you to not only get a good fit but to eliminate the dreadful heel raising during vertical ice climbing.


So while this is not quite the right season for this yet, I wanted to write a quick review of Intuition Denali liner. In late April - early May I had the opportunity to finally try these liners out in my Koflach Arctis Expe boots instead of the stock liner while on a five day trip up Liberty Ridge on Mt.Rainier. There are several reasons for why I wanted to find a replacement for the original Koflach liners. First of all, I wanted a warmer liner, the winters at the local New England playground, Mt.Washington, can be rather brutal with temperatures dropping bellow -30C regularly. Second I did not like how my heel would always come up when I am doing any real vertical ice and I hoped that the new liner would be a better solution then the pieces of foam that I had duct taped inside the plastic shell. And the third goal was to make my boots lighter – I love my Koflachs but they are quite heavy and since I fully believe in "light is right" I see no reason why this should not apply here.
So out of the three points outlined above I think I can fully address the later two – the fit and the weight of the liner. Because the temperature on Mt.Rainier never dropped below –20C and because the weekends that I spent in New England prior to that were quite warm as well I never got a chance to see just how warm these liners were. All I can say is that my feet never got cold – but then again my friend who had Vasque Ice 9000 boots never complained about cold feet on this trip either.
As far as fit: first of all these liners are completely heat moldable. According to the manufacturer the liners can be customized in this fashion multiple times without loosing structural integrity. The liners came with a velcro strap that you can use during the heat molding process to tighten it further around your foot or leg – I used this strap to give my liner a tighter fit around my achilles tendon area just above my ankle. The result was that my heel no longer lifted up when I climbed steeper ice. After the initital fitting I went on a hike for a couple of hours and found that I still had a bit of a hotspot around my big toe on one foot. Since I saw that the closed cell foam of these liners became soft at a relatively low temperature when I was getting them fitted at the store I elected to simply use a hair dryer to put the finishing touches on this fitting process. By simply heating up the area of the liner right around the toe area I quickly resolved this problem. Now, while I was happy with the fit initially, over the course of my Rainier trip I did find out that I probably sized the boots just a little too small. This brings me to another point – customer service.
From what I can tell Intuition is still a small company with just a few people working there. After reading some early reviews about the liners and how warm they are I wanted to get my hands on a pair. I found out that there are just a few distributors around the US that carry them and not a single one had liners in my size. I ended up contacting the company and they were kind enough to let me buy a pair from them directly. Crystal at Intuition Sports was very patient with me, explaining how to size the liners and even sent me a piece of foam that fit the heel cup of my Koflach shells (if you have Koflachs you know that your liner has a heel and most after-market liners do not – so you have to cut a piece of foam or something to make this work). I also ended up ordering a closed cell foam sleeping pad from them to see how it will compare to what I already had (after having my Thermarest puncture in the middle of a night during winter Presidential Traverse I was ready to go back to foam). I don't want to review it here but I'll just say that it was light and very compact – although of course not quite as comfortable as an inflatable pad. I still haven't compared it side by side to a regular ridgerest but I think when cut to the same size as a ridgerest it was ~400gr, so roughly the same weight, but less bulky. The customer service was terrific to the point that when I was left a bit unsatisfied with the fit they sent me a replacement pair that was a size larger and I got it within a week. Now one quick note here is that again this is a small company and when you e-mail them or call them it might take a day or two for them to get back to you – this is something that happened to me when I first tried to contact them – but given the amount of personal attention I got after that I really can't complain.
Now one of the biggest advantages of this closed cell foam liners over anything else is the weight. A pair of size twelve Koflach liners is 875 grams, a pair of Intuition liners 280 grams – over three fold difference!
Very likely the Koflach liners are burlier and would last longer, but the weight savings are significant. There are additional advantages to using closed cell foam – the liners don't absorb much moisture – so you don't even really have to put them in your sleeping bag. In fact due to an exploding camel back incident (the hose popped of…) – I found out that the liners, unlike a down sleeping bag, hardly absorb water even when it is directly poured on them – only the synthetic material covering the foam is capable of getting wet.
Overall I was left very satisfied with the boots and very happy with the customer service. I see no advantage to using stock liners – Intuition liners are lighter, more comfortable, and seem to be warmer. So far I've recommended these liners to all my ice climbing buddies – for most of us in New England the simple idea of not freezing our toes of during a cold belay is golden.