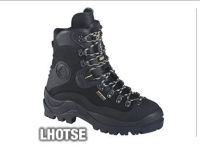 Manufacturer:
La Sportiva



This item may be available at:
Description
FOR The ultimate mountaineering boot for extreme and mixed conditions FIT High ankle cuff height and contoured heel pocket combined with EZ Flex2 tongue and speed lacing hardware for a perfect fit GRIP Automatic crampon compatible La Sportiva MPE outsole for excellent traction in all mountaineering conditions FUNCTION 3mm Idro-Perwanger leather with large rubber rand and Gore-Tex® lining that provides durability and protection in extreme conditions
3 Reviews
older model Lhotse review
Review by: apoorva, 2007-11-18
Decent boot. Used it on and off for a few years, Tetons, Alps, Kashmir...
Not the warmest boot - though I admit I have cold feet. Ice climbing on Mt Blanc du Tacul in November, my feet were freezing... and during the forced bivy later (yes, that's a whole another story), at night, I HAD to take off the boots and put my feet in the rucksack.

On the other hand, they're pretty good, can make 5.7 moves in crampons, torquing, edging, whatever; for ice my toes do hit the front sometimes, but the fit's ok. I've climbed up to 5.11 in just the boots; but on top rope cragging, practicing for mountains! Not actually up somewhere :)

Looking for warmer boots now for the winter.
Lhotse
Review by: go_dyno, 2007-01-18
Great boot. Zero break in and very comfortable. Has just the right amount of ankle flex for comfortable approach or cold weather hiking/climbing without giving up anything on verticle ice. Warm. Only gripe is these like most other boots are slick in boot stirrup area between the heel and front lugs and often when you step on an ice bulge or frozen log here you will bust ass! I wish all the boot makers would put some teeth in that area! Oh, the first time I put on these boots was in the parking lot of what turned out to be a week long expedition filmming wolves in almost total whiteout conditions, the filmming sucked the boots rocked!
Review
Review by: ahenman, 2005-02-14
An amazing boot. Zero break-in time and a very good all round boot. Climbs rock and steep ice like a dream and easy on the feet on approaches due the extra bit of flex in the ankle which does not sacrifice their front pointing ability. The lacing system and adjustable tongue are nice touches to help fine tune the comfort and the performance of the boot and I have found the boot to be very warm even at -40c. Highly recommended.