Revolution
Item Details
|
Reviews
(
1
)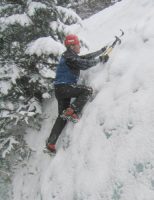 Manufacturer:
Kayland



This item may be available at:
Description
First Impressions 2/13/2003
I love winter. I love summer too, but in winter I have so many more choices of what to go and climb (or ski), and where I do it. Shelf Road and Eldorado Canyon make pretty decent winter rock locations, depending on the weather day to day; but to really get full-effect from living in the mountains, one has to think that it's okay to go climb whatever the mountains and weather decide to throw at you. And that means that you get to play on snow and ice as well as rock.
KayLand has a killer technical boot out that will get you through the 'other' season – the Revolution. It's in the same technical league as the LaSportiva® Nepal Extreme, well-suited for most cold-season alpine mountaineering exploits. This beefy weather-proof leather boot boasts all manner of performance tweaks, and for ice climbing in particular, it's primary purpose, I can't imagine more comfortable foot enhancement.
I received a demo pair from a North American distributor, Igloovikski, and set out as soon as possible to give them a good run-through. They unfortunately weren't available in the early season here for some excellent mixed climbing in RMNP and on some killer climbs in avalanche central (Summit county's 10 Mile Canyon), but oh boy. Happy days those first ones were, walking around the house in big bright orange-red boots. It's been miserably cold and other things have interfered with starting to test them, like (ugh) work, but I finally got them out today for a few pitches of WI2/3 solo.
What do I like about 'em, so far? They fit right outta the box. They're of about medium volume. I have narrow feet (AA?) and especially heels, but green SuperFeet® liners pushed my heels into the right place nicely. The toebox is still very roomy, even with big socks (the really big SmartWool® ones, red and grey), but it didn't cause a problem; in fact, I think that it's helping the warmth more than snuggier boots would (my La Sportiva® Karakorams are a half size small and painful - but that's what ice is all about, right?).
They're nice and flexy in the ankles, warm, and so far seem like they're going to be comfortable for general mountaineering (and approaches) as well. The only knock I have so far is that the asymmetric soles (the whole boot points inward at the toe) doesn't fit very well onto rigid cramps - Camp® FootFangs, in this case. I had to offset the rear bail, one notch further forward on the outside edges, to compensate for the asym. I think that this wouldn't be an issue for semi-rigid modern crampons, though. Just an observation.
More as I figure things out. I like them about 10x more than my Raichle® & Koflach® doubles or Karakorams so far, though. The approach marches will tell a lot. More as I come by it. If you're shopping, use your combat boot size (generally, your street size or generic Nike® running shoe size) for ordering (or downhill ski boot cm size). They seem to be pretty equivalent. And the boots seem pretty forgiving to fit, unless you have a hugely wide foot. Narrow isn't bad with an insert - only sloppy right at the toes.
Climbing at Silver Cascade, Solo 2/15/2003
Same impressions. Probably because of the rigidity of the shank plate, I found it difficult to walk uphill on hard snow/ice without kicking in a little for purchase. The Vibram soles are still slicker than snot on ice without using crampons, but this is common to all of the Vibram boots I've ever worn. Wearing a slightly less-thick sock that won't bunch on my heel might make things more comfortable for local, warm ice conditions. I love that these boots are not too tall on the ankle to drive in. The ankle flex just works, even in a small car.
Climbing at Mount Lincoln Ice Falls 2/22/2003
They stayed warm and dry all day in cold, snowy, windy conditions with 8 inches of new powder on the ground. A mile approach hike was pleasant, although icy patches on the road still caused slipping unless I consciously set my weight directly above the boots. Climbing a snow-covered boulderfield was actually nice for a change; no stressing around the ankles when the boots turned unexpectedly on the rocks, and they gripped the snowy/icy rock edges exceptionally well. I would expect this kind of comfort and reaction from my backpacking (midweight hiker) boots, but never from ice boots. Moving my foot in one direction and my ankle in another felt a lot safer on the descent as well; less stress on the knee when unexpected twists happened.
We climbed 8 pitches of WI3+/4 in wet conditions; my climbing pants and thermal underwear were soaked and coated in ice, my gloves were iced over except at flex points – but the boots stayed dry, completely. I am used to sweating profusely in my boots as well, but they were dry and comfortable enough at the end of the day to drive home 2 hours in without changing. I have to think that the PROOF membrane works to keep them dry from the inside as well. I liked that the boots didn't pick up wet, bally snow on the hike out – the crampons had 2" of snow and ice built up even with frequent bashing.
Backpacker's March 2003 Gear Guide rates the KayLand® Revolution Women's boot as the best mountain boot for women, but fails to test the Revolution in mens (they did rate the Contact 1700s as the best all-purpose boot, the Multi-Tractions as excellent midweights, and the Zeus as a 'best buy' for mountaineering boots – see the Zeus review in the 8/00 issue). Some of Backpacker's notes on the Revolution Women's follow, and match my impressions: "…snug fit around the leg, ankle, and instep, which provide stability on icy terrain… …suitable for winter trips, light mountaineering, and rugged backpacking treks, the Revolutions offer excellent support and waterproofing… …the tops aren't stiff enough for skiing, though."
Climbing at Silver Cascade 3/01/2003
For my feet and ankles, I like some of the 'fancy' additions that KayLand® put into these boots. The contoured tongues actually do wrap nicely outside of the main lacing, and don't give me any problems with tongue-shifting on long days, pinching, or drooping back into the boot. As they get less stiff with more use, we'll see how the tongues hold up – but they seem to be well supported, and I like how this design feature works with narrow ankles and large calves.
Others have knocked the lace-up system and lace hooks as being too complicated and too difficult to work. With 20+ pitches and several days out now, I haven't found a single reason to complain – my ankles haven't been bruised or beaten at the end of any day, I haven't ever had to re-tie or tighten after leaving the car, even after approaches, and the laces haven't ever loosened that I would have to futz with them in the cold or wet. There is a trick to this – and it's important. Getting the lowers set up to the proper tension for comfort can be done walking around indoors. After that, the flexible cuff anchor loops keep the lower tension perfectly in place – fabric loops instead of frictionless ones – and you can just adjust the uppers.
The lower two lace hooks on each upper are fixed, but the topmost one is spring-loaded. Gimmicky? Maybe. But it works. Time will tell how durable the spring hooks are – they may be the first thing to fail on this boot. When they are engaged, like the flex cuff loops, the laces don't go anywhere. This dramatically reduces the sliding of the laces, so there aren't any untying problems while you're climbing and flexing your ankles around (which can be so inconvenient). They are positioned just right that the lace knots don't have to wrap around the ankles to get support, and the knots just don't come undone (I use a double granny). If these things keep working, I'm sold and will look for them in backpacking boots next go 'round. Releasing the knot and getting out of the boots is a little more challenging because of these features; you have to pull a little slack down through the top lace hooks to release the springs, and then a bit more below the ankles to release ankle cuff tension. Hard to do with gloves? Probably. But you won't need to – you can climb all day, hike back out, drive home with these on, and take them off when you're nice and warm, ready to get into the hot tub. Big bonus points all around.
These are great boots. One thing I'll agree with some other reviews of this boot on – if they fit, you'll be in hog heaven.
Details
Manufacturer: KayLand
Model: Revolution
List Price: $430.00 USD
Type: Leather
Use: General Mountaineering, Extreme Temps, Ice Climbing
Weight: 5lbs / 2.26kg
Description: KayLand products come with a two year guarantee on its products against faults in materials and manufacturing.
Thinsulate® Thermal microfiber insulation is used in the boot's construction, trapping more air than larger fibre and spaced insulation, works when wet, quick drying., superior active-breathing performance, less bulky than traditional insulation materials.
H2O PROOF layering in the boot construction – a PROOF membrane is sandwiched in between the inner and outer layers to keep your feet dry and insulated from weather. It is impervious to wind, snow, and rain, but breathable to allow water vapour perspiration to escape. PROOF is guaranteed fully for one year; it works on an osmosis system rather than just as a barrier; inner and outer layer boot materials are specially treated and built to assist and complement the function of the membrane as a 'second skin' layer.
This is a technical boot that includes a shopping list of features including:
Unique ankle design features a flexible cuff that improves the foot's natural movement and flex, helping maintain the boot close to the leg
Adjustable instep lacing that allows you to personalize the fit around the cuff of the boot with variable lacing options for cinching down heels
Adjustable tongue accommodates different foot volumes for a wide range of fit
Unique Achilles collar features graduated padding in three different densities, assuring comfort during descents and for French Technique
Water-resistant 8mm nubuck leather uppers, with waterproof booties and Thinsulate™ linings
Spring-loaded top lace hooks
Lightweight insoles feature a nylon/Kevlar® weave, with aluminum backing and a felt top for warmth
Full nylon midsoles are completely rigid and feature a dual-density toe area to absorb shock during front point
Low-profile outsoles enhance sensitivity and precision on the trail; lightweight EVA heel plugs absorb shock; step-in crampon compatible
Vibram® Kommandos rubber outsoles features self-cleaning lugs, with undercut heels for improved braking
1 Review
Review
Review by: tradkelly, 2003-04-19
I continue to dig these boots the more I wear them around. Warm, dry, great support despite the ankle flexors, and just awesome for the ice. I think I'm retiring my double plastics (until I go expeditioning again, anyway). --tradkelly