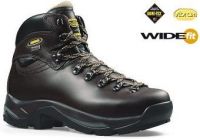 Manufacturer:
Asolo



This item may be available at:
Description
I have had these boots for aroud a year now and love them. They broke in quickly and will less pain than expected. I completed a 110mi trip in them and didn't get a single blister, even when sloshing through creeks and streams. They are also extremely comfortable and have a great laceing system allowing you to tighten the shoe to different degrees as you lace. There is a steel shank in the sole (not sure if all the way or only 3/4) that helps when walking on rocky or uneven ground and the vibram rubber was great for traction. I realize that one couldn't alpine or climb in these but figured for tough approaches or anyone who also backpacks, these shoes are wonderful!
2 Reviews
Excellent Boot
Review by: zenful, 2008-01-23
I've had the Asolo boots for one year now and have only good things to say. The boots are incredibly supportive, comfortable, and reliably durable. I work at an outdoor retail store and spent several weeks trying on the entire range of boots of this level (i.e. med/heavy waterproof hiker) and found the TPS 520 to be the clear winner. I've hiked rough terrain and even swam in the boots (relatively quick drying).
The boots are good for someone with a relatively narrow foot. I have no arches and found that the fit (along with an over the counter insert) was very suitable.
Certainly not a technical climbing boot, but able to make it through 5.6 type climbs, as noted above. Great for someone who likes an old school leather kicker with modern perks.
Review
Review by: omenbringer, 2005-03-09
These boots are great, comparable to the often praised Vasque Sundowner bootline. Along with the "oldschool" look, the 520 features several modern features that make this boot one of the premiere treking/hiking/scrambling boots on the market. To compliment the waterproofness of the Smooth Out Full Grain Leather, Asolo has added a Goretex liner. Further, the TPS features a [url=http://www.asolo.com/content.asp?L=3&idMen=155][b]new proprietary Vibram sole[/b][/url] which provides great rigidity and is built around a full nylon shank (not, as the original reviewer posted, a steel shank). This boot provides more than enough support to slog a 50 pound pack up steep and rough approaches. Though they are not climbing shoes, I can climb moderate routes (upto 5.6) with them, thanks to the great fit, vibram sole and almost to the toe lacing. These boots would be suitable for any level of climber looking for a medium volume waterproof boot. I would have given these a 5 but Asolo didn't put a rubber toe rand on these boots which would have helped with wear and tear. I also tried the Vasque Sundowner Summit, which was also a great boot but had a very uncomfortable pressure point on the top of my foot from the tongue.