Anasazi Lace-Up Blanco Rock Shoes
popular
Item Details
|
Reviews
(
21
)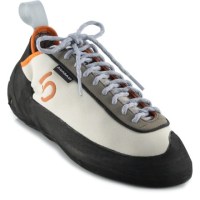 Manufacturer:
Five Ten



This item may be available at:
Description
The Five Ten Anasazi Lace-Up Blanco rock shoes are the latest take on the popular Anasazi shoes that excel at steep face climbing, bouldering and gym climbing. Synthetic leather uppers fit like a glove and resist stretching to provide the same fit climb after climb. StealthR C4TM rubber provides high friction, great sensitivity and excellent edging. 2 loops on each shoe are positioned at the heels so you can easily pull the shoes on. Lace closures let you fine-tune the fit of the Five Ten Anasazi Lace-Up Blanco rock shoes.
21 Reviews

Write your own Review


Read all 21 reviews
Great shoe
Review by: PhilPeterson, 2009-07-07
First pair of climbing shoes and they have saved my life... they come in hadny when your hands cant.
dayum
Review by: rhythm164, 2007-11-03
great shoe. first time in a lace up in about 5 years, these shoes are hands down the best I've had for hard routes where footwork is key. Edging machines, they stick to anything. EH-NEE-THANG. Other reviews mention a baggy heel, I don't have tis problem, but have yet to set a serious heel hook with them. They don't stretch much, and they size a bit different than other 5.10 models, so try a couple sizes before you commit.
Review
Review by: tallnik, 2006-08-20
It's a kick-ass shoe design that's been around for a long time, and 5.10's got the best rubber in the market. The only thing is that the manufacturing quality BLOWS when compared to La Sportiva, Boreal, or Triop (the other companies from who I have shoes: Katana, Ace and Twist). The 5.10 shoe is definitely the worst-made. One week out of the box, and the heel cup is tearing off from the shoe. This seems to be a result from using the inner-pull tab. BUT, if you can't use them then what are they there for?!?

I sized the shoe down a full street shoe size and find that although I don't leave them on for the whole route on anything bigger than two-pitches, comfort is not a problem. The heel cups fits with my long and narrow foot, and the last is perfect for someone with a foot shaped like mine. The heel is baggy though.near the bottom, although this has not been a problem for heel hooking yet.

Climbing in these shoes kicks ass. You can really stand on almost anything. Smearing is possible as well, and the rubber is the best.

Next time though, I'm keeping my money for the La Sportiva Miuras (and an eventual resole with 5.10 rubber)
Review
Review by: martinheynert, 2005-11-16
I like this shoe for its universality and for its edging power. I also have a LaSportiva Testarossa, which is softer, but more specific.

The Anasazi, if you size 'em thight, is a stiff shoe. I bought mine the same size like my street shoes, use it with ultra-thin running-socks and have a close fit, but no "hot-spots". And I don't have the skunk smell otherwise notoric for this upper material.

I use 'em for edging, ramming it into cracks and even for smearing. Quality has been improved.

Stealth rubber is still the stickiest on the world, more than Vibram.
Review
Review by: maxdacat, 2005-11-03
great up front....nice stiffness and great rubber but shame about the baggy heel.